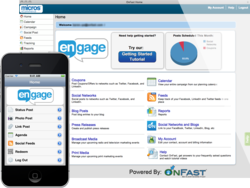 Our social marketing & promotions product, Engage, will be powered by the OnFast platform.
Naples, FL (PRWEB) May 15, 2012
OnFast, a cloud-based enterprise social media marketing and analytics provider, is pleased to announce its strategic partnership with MICROS eCommerce, a subsidiary of MICROS Systems, Inc. MICROS eCommerce is one of the leading interactive marketing companies for hospitality, travel, and retail. This partnership provides MICROS eCommerce customers with OnFast's enterprise-grade social media marketing solution as part of MICROS eCommerce's Engage social marketing offering.
"Our social marketing & promotions product, Engage, will be powered by the OnFast platform," says Jos Schaap, Senior Vice-President, MICROS eCommerce. "The partnership with OnFast enables our agency to supply world-class social media messaging, promotions, coupons, Facebook and mobile apps, campaign calendar, and sophisticated analytics for Facebook, Twitter, and LinkedIn. Their robust all-in-one solution pairs perfectly with our leadership and expertise in digital marketing services." "The Engage product will help increase client visibility and guest engagement all driving towards providing more relevant data, allowing for optimal SEO ranking and a sound Social Strategy," added Jos Schaap.
"We are excited to partner with MICROS eCommerce, proven innovators in the hospitality technology and online marketing space," says Aaron Shepherd, Co-Founder and CEO at OnFast. "Combined with MICROS eCommerce's award-winning digital marketing service, this partnership provides hotels, restaurants, and retailers with everything they need to effectively promote, engage, and communicate with their customers via the social web."
The combined service will be available as the MICROS eCommerce Engage service. Please contact MICROS eCommerce to get started at http://www.microsecommerce.com.
About MICROS eCommerce
MICROS eCommerce, a subsidiary of MICROS Systems, Inc., is dedicated to assisting the travel industry with exceeding their online marketing goals. Serving an extensive portfolio of clients worldwide, MICROS eCommerce combines its industry knowledge and e-business expertise to help clients maximize the online channel. MICROS eCommerce offers multi-language websites, a vast network of internationally based strategic linking partners, email and pay-per-click marketing campaigns tailored to all international markets, custom social media solutions, and websites optimized for major search engines around the world.
About OnFast
OnFast is a cloud-based software as a service (SAAS) provider for enterprise social media promotions and analytics. OnFast's management team brings a wealth of experience from more than 25 years of leadership in the enterprise travel software industry to provide customers with innovative, robust, and highly scalable solutions. OnFast is headquartered in Naples, Florida. For more information contact Christopher Shepherd christopher.shepherd(at)onfast(dot)com at 866-MYONFAST (866.696.6327).
Follow OnFast on:
Website: http://www.onfast.com
Blog: http://blog.onfast.com
Facebook: http://www.facebook.com/onfast
Twitter: @OnFast
LinkedIn: http://www.linkedin.com/company/onfast
Google+: https://plus.google.com/107074561871305057160
OnFast is a registered trademark and other OnFast product names, service names, slogans or logos referenced in this document are registered trademarks of OnFast, LLC. All other company, product or service names referenced in this website are used for identification purposes only and may be trademarks of their respective owners.
# # #