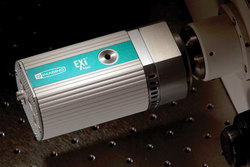 The EXi Aqua is an excellent entry- level imaging device with the added bonus of upgradeability to achieve lower noise and 50% higher frame-rate in the future, should a researcher require the additional performance
Surrey, British Columbia (PRWEB) August 24, 2009
QImaging, a leading developer and manufacturer of high-performance, easy-to-use digital cameras for life science and industrial applications, has announced the release of the EXi Aqua Bio-imaging Microscopy Camera. This product replaces QImaging's hugely popular Retiga EXi with even better performance and many feature enhancements. Life science professionals and busy labs will appreciate this camera's ability to perform a broad range of imaging applications--from quantitative color and immuno-fluorescence imaging to the capture of dim fluorescent protein data.
The newest of the EXi series, the EXi Aqua is a user-friendly, cost-effective tool well-suited to most bio-imaging applications. This camera is a laboratory workhorse, literally 2 cameras in one--a sensitive monochrome camera, and, when utilized with the optional RGB filter module, a high-resolution color camera. And the EXi Aqua is also available with a convenient Bayer mask color CCD option. In addition, the camera's capabilities can be upgraded, should imaging requirements change over time.
"The EXi Aqua is an excellent entry- level imaging device with the added bonus of upgradeability to achieve lower noise and 50% higher frame-rate in the future, should a researcher require the additional performance," says Rachit Mohindra, Associate Product Manager. "The camera can adapt with its user's needs."
Broad range of applications include: Immuno-fluorescence Imaging; High-resolution color imaging (with Bayer Mask Color CCD or RGB module for high-sensitivity Monochrome CCD); Fluorescent Protein Imaging-BFP, GFP, YFP amd RFP; Time-lapse fluorescence imaging; precision imaging of all microscopy modes; DIC (Differential Interference Contrast); IR-DIC (Infra-red Differential Interference Contrast); NIR (Near Infrared); phase contrast, bright-field, dark-field; cell devision studies; Cell motility studies; cell trafficking studies; cell signalling studies; protien trafficking, Ca imaging; Neuroscience imaging; cancer studies; cell morphology studies; FRET studies and more.
The 20 MHz, 14-bit EXi Aqua camera utilizes the remarkable bandwidth of an IEEE 1394b Firewire interface with the megapixel resolution and excellent sensitivity of a Sony ICX285 interline sensor. The IEEE 1394b protocol delivers 800 Mb/s bandwidth capacity, allowing the EXi Aqua camera to read out up to 10.9 full-resolution frames per second. Flexible binning enhances the camera's sensitivity and speed. Variable exposure times range from 10 microseconds to 17.9 minutes. Cooled and stabilized at 0 degrees C, it boasts a broad spectral response with enhanced red sensitivity, and approximately 20% less read noise than its predecessor the Retiga EXi. Weighing in at less than 2 pounds, the camera requires no bulky external controller, minimizing bench clutter.
The EXi Aqua Microscopy Camera utilizes the robust QCam driver which integrates seamlessly with a variety of popular third-party software packages, and can be installed and operational minutes out of the box. It is backed by superior QImaging application and product support and a two-year limited warranty - the industry's best.
About QImaging
QImaging designs, manufactures, and markets high-performance FireWire cameras for life science, machine vision, and OEM applications. These affordable digital imaging solutions offer outstanding versatility, ease of use, and reliability. Tens of thousands of customers worldwide use QImaging cameras to perform quantitative image analysis and acquire high-resolution images for publication. Numerous alliances with third-party software companies and system integrators enable QImaging to deliver comprehensive imaging solutions and application-specific software for a broad range of demanding bioscience and industrial applications. QImaging cameras are backed by the industry's most experienced applications development and support staff. QImaging is a registered ISO 9001:2000 company.
###