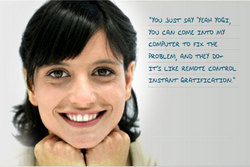 iYogi is always available and one step ahead to support and protect what online life brings. Whether that be initial installation, computer viruses, or major upgrades such as Windows 7, we've got you covered
New York, NY (PRWEB) September 12, 2009
iYogi, the on-demand tech services company with a unique global delivery model of direct to consumer and small business technical support, announced today a recruiting program to hire and train hundreds of additional highly qualified Global Tech Expert (GTE) personnel in the US. The expansion of the iYogi GTE support force will allow the company to further scale to handle a rapidly growing customer base for its unlimited PC support subscription service.
"We are excited to enhance our global force of expert technicians to support a vast audience of computer users out there that need an alternative to existing tech support models," said Uday Challu, CEO & Co-founder of iYogi. "Our powerful global delivery model and customer care system that cuts the cost of live technical support, while providing the lowest wait times and highest resolution rates in the industry is a win-win scenario for incoming recruits and customers."
As part of the new program, iYogi is offering guaranteed minimum income per month for new GTEs and is inviting new North American recruits to an all expense paid trip to India -- to experience first hand the Global Delivery Platform and get comprehensive training on technologies, systems and processes.
"iYogi is a great place to work and is a fantastic opportunity for computer-savvy professionals to join a fast-growing, innovative service company," said Richard Steel, Global Tech Expert with iYogi. "With 87 percent resolution rates, 95 percent customer satisfaction, and an optimized model and infrastructure, we are able to deliver breakthrough value to thousands of customers every day, and that's very rewarding."
With its simple, online support that hooks to your computer remotely and fixes your specific needs now, iYogi is bringing much needed relief to today's frustrated computer users. iYogi also offers innovative service offerings for PC performance optimization and recovery, including while-you-sleep check-up and revitalization of your system.
"iYogi is always available and one step ahead to support and protect what online life brings. Whether that be initial installation, computer viruses, or major upgrades such as Windows 7, we've got you covered," added Challu.
As part of its comprehensive support, iYogi has strong partnerships with leading software and technology solutions providers, including Bit Defender, CA, HP, Cisco, and Microsoft Certification. In addition, iYogi's service is offered by some of the world's biggest offline and online retailers, including Walmart, Amazon, eBay and many others.
For more information on iYogi's recruiting program visit http://www.iyogi.net
ABOUT IYOGI
iYogi is a global on-demand services company that provides personalized computer support for consumers and small businesses in United States, United Kingdom, Canada and Australia. iYogi's unique model, including proprietary technology iMantra and highly qualified technicians, is designed to eliminate computer-related stress and keep millions of digitally dependent consumers and small businesses always protected and productive. Only iYogi -- with its proven global expertise delivery model, intelligent customer insight systems, 60-second telephone response times, easy-to-use self-help tools and automated PC optimization services -- offers users a simple yet comprehensive path to digital serenity. iYogi has perfected the remote technical support model to overcome the current limitations of in-store, on-site, or call center services to become the fastest growing provider of support in the industry. Major resellers and technology companies are increasingly turning to iYogi to improve customer satisfaction, reduce return rates, and deliver a compelling new-value added offering to customers. For more information on iYogi and a detailed list of technologies supported, visit: http://www.iyogi.net.
# # #