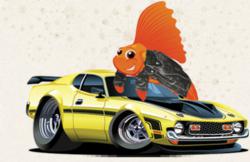 They are opening up the brand of Xbox by taking it to another level, making an Xbox synonymous with functions other than just video games, and I think it's going to work for them.
Los Angeles, CA (PRWEB) June 05, 2012
RoadFish.com men's lifestyle and finance magazine today tipped its cap to Microsoft for disclosing its most recent project, an innovative application known as Xbox SmartGlass, which the company revealed at the Electronic Entertainment Expo (E3) in LA early this week. SmartGlass is not actually glass but rather an application that will link media such as smartphones, televisions, tablets, and Xbox consoles in such a way as to streamline gaming, television watching, and web surfing. RoadFish.com commended Microsoft on making such revolutionary progress in the gaming and mobile device industry.
Doug Gross and Larry Frum reported for CNN, stating that Microsoft rolled out the SmartGlass system on Monday at E3, presenting it at a way to enhance gaming, movies, and TV shows by allowing all of your mobile devices plus television to work together. Reportedly, SmartGlass is an app intended to work with Windows 8, however it will work with Apple and Google products and operating systems as well. The article listed several different uses for SmartGlass, such as being able to pause a movie on a tablet, then being able to send it directly to an Xbox to continue playback on a television. Another demonstration of SmartGlass presented the ability to watch, for example, a television show like HBO's "Game of Thrones" as a map of the show's fantasy land, Westeros, pops up on your tablet or smartphone.
The overall product of SmartGlass is the ability for the app to recognize your preference in television shows, movies, and games (through the use of an Xbox, of course,) and then automatically offer you that content later on based on your preferences, eliminating the need to search. Gross and Frum's CNN article includes a quote from Don Mattrick, who is the president of interactive entertainment for Microsoft, stating, "Xbox is on a mission to make the entertainment that you love even more amazing. With Xbox SmartGlass, we are lighting up entertainment across your phone, tablet, PC and TV in a completely new way. If you love to play games, watch TV and movies, surf the Web or listen to music, there has never been a better time to be on Xbox."
RoadFish.com is impressed by Microsoft's innovative addition to the gaming world. RoadFish.com's Senior staff writer is quoted as saying, "I think this is actually a really brilliant move by Microsoft. I think they realized that they would be out of their league trying to compete with Apple in terms of tablets or smartphones, and so went another route. They are opening up the brand of Xbox by taking it to another level, making an Xbox synonymous with functions other than just video games, and I think it's going to work for them. Other systems have small aspects of the SmartGlass app, but SmartGlass combines them all and then kicks them up a notch. I love the idea."
In the above-mentioned CNN article, former G4TV host Adam Sessler agrees that SmartGlass was a wise move for Microsoft. Sessler is quoted as saying of Microsoft, "They read the reality of the landscape and realized they can't compete in the tablet market. This allows them to get their stamp on every device with no risk. It shows a maturity at Microsoft about how people are handling their games and entertainment. I don't think [SmartGlass] works right now for gaming, but I have a few ideas on how it might work for the future." CNN reports that SmartGlass is designed to work with the Window 8 operating system to link tablets to smartphones, tablets and smartphones to Xbox consoles, and Xbox consoles of course to televisions. Though the design is intended to work with Windows operating systems, it will reportedly work just fine with Apple devices and with Androids. Having an Xbox is a necessity to use the app. Gizmodo wrote, "If Xbox is the brains, Smart Glass gives users the limbs needed for a full-functional, self-sufficient media beast."
RoadFish.com congratulated Microsoft on its innovative addition to the gaming and mobile world. RoadFish.com's Senior staff writer is quoted as saying, "Microsoft just got its name back out there in a big way, and I'm excited for them that they are keeping up with the rapidly advancing technology. They've found their niche in the market, and it will be exciting when SmartGlass becomes available. I can see it as an app that will have a tremendous impact on the already existing mobile devices."
According to the above-mentioned CNN article, Microsoft reports that the app will hit the market in the fall, around the same time as the final version of Windows 8 will become available. Reportedly the app is free, and the only extra cost might be if a user did not have an Xbox, and would need to purchase one in order to link his or her other mobile devices.
About RoadFish.com
RoadFish.com is an online men's lifestyle and finance magazine targeted toward men in their 30's and 40's that have already attained a moderate level of success in life, and are striving toward more. It goes over current events of interest to this group, such things as exciting adventures, consumer interests, and hot chicks, as well as ways to make more and save more money. It is a publication owned by Purpose Inc.
# # #