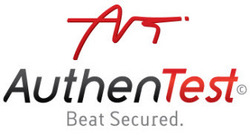 The physical world has been transplanted into cyberspace
Miami, FL (PRWEB) July 14, 2009
Authenware, a leader in keystroke biometric software, today announced the general availability of an effective, consumer-friendly version of its product that is certified to protect logon access to domains and applications within the Microsoft Windows XP environment. AuthenWare offers a second-factor authentication system that detects if a login is being attempted by the rightful user based upon the particular 'way' that person types, rather than 'what' the person types.
"The physical world has been transplanted into cyberspace," said Tom Helou, president of AuthenWare. "Large filing cabinets have been replaced with a small icon on our desktops and face-to-face conversations are often exchanged for a series of Tweets, chats, and wall posts. The innovations of companies such as Microsoft have transformed the way humans interact and businesses operate. And while these advancements have improved our lives in many ways, they have also opened a Pandora's Box in terms of security issues. Companies look to us to provide them with an additional layer of protection for their clients and consumers who interact with Microsoft systems."
With more than ninety percent of AuthenWare's customers using Microsoft XP as their operating system of choice, it was important to address their needs immediately by enhancing AuthenWare to close their security gaps. AuthenWare's effectiveness on Microsoft platforms is due to the biometric software's implementation of a three-tiered architecture: presentation, business logic, and server data protection - all configured to address the needs of Windows users. Employing a highly sophisticated algorithm as the foundation, AuthenWare monitors a series of user logins to develop a unique personal pattern for the user.
Specifically, the AuthenWare software offers simple end-user registration, effective troubleshooting, and efficient training requirements as well as successful elimination of all known man-in-the-middle hacking attempts. With a menu of options to configure the right features for each application, Authentest allows administrators to determine the level of security at any access point. Further, the software is implemented on a black-box server stored behind the inner firewall, providing SOA Web services for training, authentication and administration of biometric patterns, as well as SQL access to log data.
About AuthenWare
Headquartered in Miami, AuthenWare is a leading innovator of keystroke dynamics software. Its identity authentication product, AuthenWare, recognizes valid users by calculating the unique rhythm and beat with which the typist keys in data (i.e. their username and password) on their computer keyboard. It evaluates this information along with behavioral and environmental characteristics to keep hackers out and let authorized personnel in. The company provides its security product and services to customers spanning international borders and business sectors, across a wide variety of industries such as financial services, government, transportation and logistics, manufacturing, and retail.
For more information or to request a demo, please visit our website at http://www.authenware.com.
# # # #