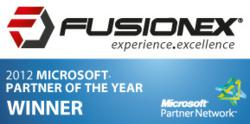 Fusionex BI Centre stands out from other products due to its ability to address and simplify the most demanding and complex BI requirements in the world with resounding success.
Toronto, Canada (PRWEB UK) 17 July 2012
Fusionex proudly announced that it has won the 2012 Microsoft Business Intelligence Partner of the Year Award. The company was honoured among a global field of top Microsoft partners and in front of more than 16,000 representatives from all over the world, for demonstrating excellence in innovation and implementation of customer solutions based on Microsoft technology.
"This is indeed an exciting and proud moment. We are elated to receive this very prestigious global award," says Ivan Teh – Managing Director of Fusionex. "Fusionex has always been widely regarded as a strong and reputable Business Intelligence (BI) partner and we have invested heavily towards the development of Fusionex BI Centre, as we believed in its immense potential. With its advantage of being built on top of Microsoft's best technologies, Fusionex BI Centre is able to address and simplify the most demanding and complex BI requirements in the world, and we have demonstrated this powerful capability time and again with resounding success. It is very fulfilling for the team to see this dream realised after years of hard work and investment, and we continue to remain committed to excellence in the Business Intelligence space."
Awards were presented in multiple categories, with winners chosen from a set of nearly 3,000 entrants worldwide. Fusionex was recognised for providing outstanding solutions and services in Business Intelligence.
The Business Intelligence Partner of the Year Award recognises a partner who has developed a business intelligence solution based on the Microsoft Business Intelligence platform. The winning solution from Fusionex empowers a customer's resources with self-service analysis and enables the customer to create more aligned and informed decisions with better team collaboration. The solution is based on the Microsoft Business Intelligence platform, including, but not limited to, the latest versions of Microsoft SQL Server or Microsoft SharePoint.
"We are pleased to announce Fusionex as the Microsoft Business Intelligence Partner of the Year. Their BI solution, which utilises SQL Server 2012 to streamline information from multiple data sources, is designed to provide their customers with better business insight through increased quality and visibility of information." – Eugene Saburi, general manager, Application Platform Marketing, Microsoft Corporation
The Microsoft Partner Awards recognise Microsoft partners that have developed and delivered exceptional Microsoft-based solutions during the past year.
The Fusionex BI Centre solution is a re-deployable horizontal offering that can be implemented for clients of all verticals. Through extensive research and development, Fusionex developed a Business Intelligence and analytics solution that amplifies business insight capabilities with very high scalability.
The Fusionex BI Centre solution has been developed with CEOs, COOs, CFOs, CIOs as well as teams at all levels as the target audience, and is designed to benefit users in terms of ease of use, overall implementation, lower TCO and ease of maintenance.
About Fusionex
Fusionex is an established multi-award winning IT group with operations in Asia, Europe and the United States. With its various market units and experienced teams of professionals, Fusionex possesses deep domain knowledge with diversification across multiple sectors and verticals.
Their products and solutions are ideal for companies seeking superior level yet user-friendly solutions including that of data capture & workflow, business intelligence (BI) and analytics, portals & collaboration, Big Data & Cloud based solutions, migration & integration, as well as enterprise mobile solutions. Fusionex has consistently delivered high quality, mission critical systems, providing our clients with exceptional competitive advantage.
To learn more about Fusionex, visit http://www.adv-fusionex.com