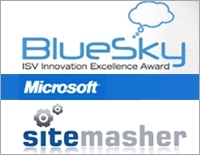 Our winner and finalists were recognized because of their true inspiration in driving innovation forward
Vancouver, BC (PRWEB) June 6, 2008
Sitemasher's skies became brilliant blue today when Microsoft Canada announced the Vancouver-based start-up company as the winner of the inaugural Blue Sky Award recognizing leading innovation developed on the Microsoft-based platform. Sitemasher was elected from more than 100 submissions by independent software vendors (ISV) across the country.
"Our winner and finalists were recognized because of their true inspiration in driving innovation forward," said Mark Relph, vice president of the Developer & Platform Evangelism, Microsoft Canada. "We are thrilled with the response to this award and hope that it helps stimulate many more years of technology innovation in Canada."
Sitemasher Corporation was recognized for its unique SaaS-based delivery model, broad market appeal and its integrated web offering. ISVs were judged on the unique use of technology, the real-life challenge they are solving and the market potential.
"Taking our solution to market with Microsoft is very strategic for us," said Nicole Denil, Sitemasher's vice president of sales and marketing.
Sitemasher Corporation will receive a customized engagement plan including software and business development resources, public awareness, and exposure to additional Microsoft-based resources both in Canada and Redmond.
"We are extremely excited about winning this award and look forward to the value it will bring to our business," said Ron Moravek, CEO, Sitemasher Corporation. "We're thrilled to be part of Microsoft's Partner program."
For more information about the award, visit Microsoft's Blue Sky Award Website
About Sitemasher
Established in 2007, Sitemasher is a SaaS-based platform for building, managing, and optimizing sophisticated websites. Phil Calvin, chief technical officer, began developing Sitemasher in 2005. He was intent on transcending traditional website building platforms and Web content management system (CMS) solutions by providing an integrated, search-engine friendly platform to address the entire website lifecycle. Ron Moravek, chief executive officer, joined the new corporation in August 2007 along with Curtis Terry, chief financial officer and chief operating officer for Sitemasher, both from Electronic Arts, Canada. Eric Dorgelo, vice president of development, joined the team from Rockwell. Nicole Denil joined Sitemasher from Microsoft Corporation. Eric Carlson became the sole venture capitalist and partner in December.
###