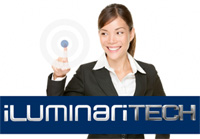 Enterprises of all sizes can benefit from Microsoft's productivity software, both on-premise and in the cloud."
Calgary, Alberta (PRWEB) February 12, 2013
Iluminari Tech, a leading provider of next-generation Microsoft collaboration solutions, is thrilled to announce the launch of a full suite of services based on Microsoft Lync 2013®. Iluminari Tech will leverage Lync 2013's powerful new enhancements to deliver unprecedented unified communication and collaboration for organizations. For customers, it means industry leading unified communications solutions that deliver consistently rich end user experiences.
"We are excited that Iluminari Tech is providing a full suite of services for Microsoft Lync 2013®" said Zia Mansoor, National Lync Sales Lead for Microsoft Canada. "This provides customers the advantage and choice that meets their specialized communication and collaboration needs."
Iluminari Tech's new services are designed to drive customers' collaboration competencies, from evaluation all the way through successful production deployment. The suite incorporates comprehensive support models to consolidate multiple ecosystem partners into a cohesive solution.
"Enterprises of all sizes can benefit from Microsoft's productivity software, both on-premise and in the cloud," said Angela Hlavka, Iluminari Tech's President and CEO. "Our offerings help our customers to cost effectively accelerate their adoption of new technologies across the enterprise and help increase employee productivity, efficiency, and organizational flexibility. Our new suite offers flexible options to leverage existing investments, maximize returns and provide support across the ecosystem."
This announcement builds on Iluminari Tech's strong legacy with Lync. Its Lync Adoption Toolkit includes their award winning Lync Evaluation and Deployment Processes, the 'Lync-in-a-Box' solution, the Lync Budget Calculator, Implementation Best Practices, End User and Administrator training, and Lync Quickstart (Pilot). A series of live events and webinars is available at http://www.iluminaritech.com/lync-2013 for clients to gain insight into the new features and how to take advantage of the benefits.
About Iluminari Tech
Iluminari Tech is a privately held Canadian company that specializes in implementing next-generation Microsoft communication and collaboration solutions. Iluminari Tech is Microsoft Gold Communication Partner, Managed Partner and Certified Trainer that provides the expertise, best practices and training to successfully implement communication and collaboration solutions utilizing Lync and Office 365 on-premises and in the cloud.
For more information, please contact:
Angela Hlavka
President and CEO, Iluminari Tech
info(at)iluminaritech(dot)com
[1-877-895-7323]