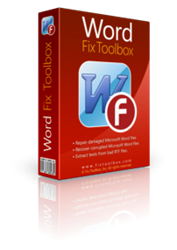 a totally reworked version of its fast, efficient and accurate Microsoft Word fix tool.
Chicago, IL (PRWEB) April 22, 2013
Fix Toolbox, a well-known manufacturer of top-quality recovery solutions for many popular applications, presents the all-new Word Fix Toolbox, a powerful and fast application capable of opening damaged *.doc and *.docx files, showing their recoverable contents to the user and extracting texts to new, fully readable and valid Word documents.
This Microsoft Word fix tool recovers texts from all versions of DOC files, including MS Word 2000, MS Word XP, MS Word 2003, MS Word 2007, MS Word 2010, and also supports recovery from RTF and DOT/DOTX files. Integrated text filters ensure that the extracted text is clean, well-readable and requires virtually no further editing. The program features a highly intuitive interface that helps users complete the recovery procedure in a few quick steps. Word Fix Toolbox does not require any additional components or libraries for normal operation and can be used on any computer with Windows 98 – Windows 7 installed on it.
"Our Microsoft Word Fix tool demonstrates excellent data recovery efficiency even in the worst data corruption cases, allowing users to get their texts back in no time and without spending hundreds of dollars on specialized data recovery services," explains Boris Bobrov, Head of Development at Fix Toolbox. "With Word Fix Toolbox, users get a compact, easy to use and reliable Microsoft Word fix solution for recovering the contents of their documents."
The trial version of Word Fix Toolbox can be downloaded free of charge from the official website. All Fix Toolbox files are thoroughly tested for viruses and are 100% safe to download.