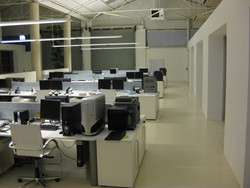 SharePoint is Microsoft's fastest ever growing server product, currently used by 100,000's of organisations worldwide
Cheltenham, England (PRWEB) July 28, 2009
Pentalogic Technology - a software development company who specialise in the development of webparts for use with Microsoft SharePoint, are expanding their business.
Pentalogic have been trading for four years and provide software to businesses, non profit groups and national and local government all over the world. Pentalogic have a number of new products in development and hope to double sales over the next year.
"Our products, which currently include resource planning, data analysis and project management tools, are designed for SharePoint end-users. They focus on specific tasks and routines that most of us encounter on a regular basis; operating with SharePoint to make the working day run that little bit more smoothly."
"SharePoint is Microsoft's fastest ever growing server product, currently used by 100,000's of organisations worldwide," comments Ryan Wheeler, "Our potential market place is huge and with the release of SharePoint 2010 on the horizon seems likely to keep growing for the foreseeable future. We are lucky in the sales have been affected very little by the downturn in the global economy, and with new products in development this seemed like the right time to invest in business expansion."
As first step in their expansion plans Pentalogic have now moved to a new software development facility in Cheltenham, England. "We plan to hire new staff in development and customer support in the coming months, so it's very important to us to have the right environment for our new people," says Ryan Wheeler, Pentalogic's founder. "Cheltenham and the Cotswolds are a beautiful part of the world and our new facility provides us with a great space to work in, the ability to offer enhanced support to our customers- and fabulous coffee which is very important for developers burning the midnight oil!"
###