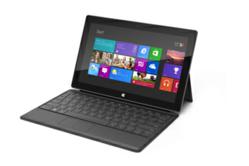 It's fast, fluid and fun to use.
Norfolk, VA (PRWEB) November 17, 2012
Exchange USA Announces New Microsoft Surface Tablet Free Delivery Special Through Christmas Eve, 2012. Microsoft's First Tablet Available for Fast Delivery to Military Loan Customers stationed here at home or overseas. Preferred online military loans provider ships USPS priority mail and with successful processing to APO and FPO addresses.
The addition of the New Microsoft Surface Tablet enhances the amazing range of products available to the military consumer. Exchange USA offers the full line of Microsoft operated computers, notebooks, and tablets in addition to all other top manufacturers and products, including Apple. All products are offered with shipping available to military personnel stationed at home or around the world.
The New Microsoft Surface Tablet is in stock and the company is offering USPS Priority Shipping free to all orders now through Christmas Eve. According to Microsoft, "The tablet runs Windows RT, a variation of Windows 8. RT is wildly different from the old windows. We wanted to build a tablet that's just as good at creating work as it is at organizing it."
In this new software Windows RT, the Start screen is a patchwork of colorful, interactive tiles. You tap one to open an app, swipe down on one to "right click" it, swipe across to reveal more pages of them. Each tile is also a tiny dashboard, showing your next appointment, latest Facebook post, today's weather and so on. "It's fast, fluid and fun to use " stated Danielle Hofmann, Exchange USA Sales Director.
Microsoft also stated, "In some ways, the far more intriguing prospect is the Surface Pro tablet, which Microsoft says will be available in 90 days. It has a real Intel chip inside, and can run real Windows programs. That's right: Photoshop, iTunes, Quicken and classic PC games on your tablet." Exchange USA is set to also offer the Microsoft Surface Pro tablet as it becomes available,
In addition to carrying today's hottest tablets, notebooks, and other home electronics, the company provides a full line of lifestyle products that include home furnishings, rims, tires, televisions, car accessories and parts, jewelry, home appliances, scooters. Discount Military Flight Loans are also offered through their travel subsidiary, Exchange USA Military Travel Services.
Exchange USA is based in the newly revamped East Beach Shopping Center at the corner of Shore Drive and East Little Creek Road. Offering consumer and military financing on lifestyle products and travel, Exchange USA was founded in 2009 and is has quickly become a local market leader. Located at 4039 E Little Creek Rd., the company can be reached at 888-998-9974 or through their website at http://www.myexchangestore.com