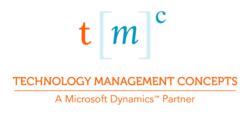 TMC is always looking for ways to grow their business and effectively cater to the needs of their customers.
Los Angeles, CA (PRWEB) December 21, 2011
Technology Management Concepts is excited to expand its footprint and business portfolio by adding Microsoft NAV to its software repertoire. "TMC is always looking for ways to grow their business and effectively cater to the needs of their customers," says President Jennifer Harris. Adding Dynamics NAV to their list of Microsoft products is a natural fit for their Dynamics skill sets. With over 25 years dedicated to ERP software, TMC is a leader in Microsoft Dynamics GP and CRM. They found it essential to expand and offer Dynamics NAV to their clients because of its added functionality that certain types of businesses require.
Microsoft Dynamics NAV is one of the most popular ERP products worldwide because it delivers the functionality, performance, and ease of use that powers diverse businesses around the world. From financials and supply chain management to manufacturing and operations, Microsoft Dynamics NAV brings people and systems together to help you run your business more efficiently. NAV is perfect for companies that have to deal with numerous customizations for their products. Of all the ERP products, Microsoft NAV is also best suited for companies or industries that require mobility features. The strength of NAV is its usability and rapid development environment. If your company utilizes that needs customized add-on solutions to perform numerous daily tasks, Microsoft NAV is your product.
If you are interested in Microsoft Dynamics NAV, GP, or CRM please call TMC at 310-559-3982 for more information or to get a quote. TMC also provides consulting services for companies that already carry the product and need help with implementation, ongoing support, or upgrades.
About TMC
TMC helps their customers strategically leverage their IT investment in Microsoft Dynamics GP (Great Plains), Microsoft Dynamics NAV and Microsoft Dynamics CRM to become more productive, efficient and competitive. Technology Management Concept's goal is to help companies derive long term business value from their software investments. TMC shares Microsoft's commitment to long lasting relationships. For over 25 years, TMC has been providing personalized services, from the beginning stages of business process review, to implementation, training and ongoing support.
With over 15 team members in various locations, consisting of application and technical consultants, developers and project managers, TMC is dedicated in helping you achieve your goals and serving their clients in Southern California (including Greater Los Angeles, Orange and Ventura County areas) as well as nationwide.
###