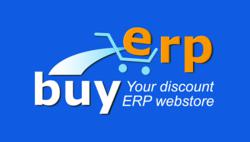 The Microsoft Easy Start Offer is a great way for companies to start with Microsoft Dynamics GP 2013 or NAV 2013 for cheap.
Las Vegas, NV (PRWEB) March 31, 2013
BuyERP.com, the leading online Microsoft Dynamics Software Retailer, has announced the Microsoft Easy Start Offer where potential customers can purchase Microsoft's Dynamics GP 2013 or Dynamics NAV 2013 Starter Pack for $3,000, which is a 40% discount. The Starter Pack includes 3 full users and all the essential modules to get a company up and running on the software. Effective February 1, 2013, and until close of business day on June 15, 2013, all new customers meeting the eligibility criteria can take advantage of this special offer.
Under the terms of this offer, new customers can obtain a 40% discount on the Microsoft Dynamics GP 2013 and Microsoft Dynamics NAV 2013 Starter Pack. For example, the Starter Pack can be licensed for USD $3,000 in the United States and EUR $2,250 in the EU/EFTA*.
ELIGIBILITY

Offer is valid only for purchases of Microsoft Dynamics GP 2013 and Microsoft Dynamics NAV 2013 using the Perpetual Licensing model.
Offer only applies to new Microsoft Dynamics ERP customers. A new ERP customer is defined as a customer that has not previously licensed any version of Microsoft Dynamics GP or Microsoft Dynamics NAV
This offer will be entered in Order Central as a 40% discount off the Starter Pack license list price. Please refer to the Microsoft Dynamics GP 2013 price list and the Microsoft Dynamics NAV 2013 price list to determine the discounted price in each country.
First year required maintenance is not included in this offer and must be purchased separately. Enhancement/support plan fees will be calculated from the system list price of all users and components, based on the regular Microsoft Dynamics price list.
OFFER DOES NOT APPLY TO:

Any other Microsoft software.
Purchases using the Services Provider License Agreement or any volume licensing program
Purchases using the Business Ready Licensing model, the Module Based Licensing model or the Subscription model.
Offer cannot be combined with other offers (with the exclusion of the FY13 Grow ERP SMB Adds – Partner Incentive), promotions or discounts. All components besides the Starter Pack must be licensed at list prices.
-Purchases made prior to the effective date of the offer are not eligible.

This offer is available to partners on an ISV Embed Addendum.
This offer cannot be converted into cash.
Taxes, if any, are the sole responsibility of the recipient.
This offer is non-transferable.
Offer available only through authorized Microsoft Dynamics resellers. End user prices, terms and conditions are independently set by resellers.
Offer only available once per customer.
Marketing Manager Brett Hensley had this to say "At BuyERP.com we strive to keep our customers happy all year, so we continuously release new specials. The Microsoft Easy Start Offer is a great way for companies to start with Microsoft Dynamics GP 2013 or NAV 2013 for cheap. The Starter Pack includes all essential modules that are needed to run a business and getting 3 Users for 40% off at $3,000 is as good of a deal that you can find out there".
About BuyERP
BuyERP.com is able to guarantee lowest prices on Microsoft Dynamics Software because BuyERP is a virtual organization and is run with minimum expenses. By eliminating the overhead of unnecessary office space and large staff salaries, they are able to offer deep-discounts on Dynamics software, allowing them to pass on those savings to you. Buy ERP promotes the M.S.R.P. of Microsoft Dynamics Software on their website where you can buy directly, but offers the best prices available when you engage with one of their sales associates. This is because their associates are able to tailor the product exactly to fit your business needs, saving you money on the modules and accessories best suited to your business. Each and every company is different, so they have a group of Solution Specialists that will configure the software to sync perfectly with your business operations. The BuyERP low price guarantee is dependent on a quote from a competitor to be matched. See website for details.
Let BuyERP's experts tailor the right product to fit your company's needs by contacting them today. They have a live chat available for any quick questions you might have or you can call them toll free at 1-888-377-3955 for any further questions. Buy ERP appreciates their customers and looks forward to working with you soon.