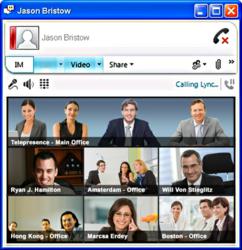 GCS brings the Lync™ environment to mobile devices and standards-based videconferencing systems
Minneapolis, MN (PRWEB) November 14, 2012
Global Conferencing Solutions (GCS) announced today that it now supports Microsoft Lync clients with its cloud-based video conferencing service. GCS is the first cloud-based service provider to support high-definition (HD) video quality up to 720p on multipoint video calls between Microsoft Lync clients and Apple iOS devices including iPads and iPhones.
This new offering will also enable Lync and Apple iOS devices to connect with standards-based room systems, PCs, and Mac computers in continuous presence, multipoint video calls. Lync and Apple iOS users will also be able to leverage the recording and webcasting services available through GCS.
"This new interoperability is another milestone for the unified communications industry," said Steve Garber, President, GCS. "It's obvious that the flagship solutions from Microsoft and Apple have been widely embraced in the workplace and have revolutionized the way we work. With this new business-class video offering, we're making it easy and affordable for people to use these great technologies together."
Pricing for this new offering is now available and allows users to create custom meeting rooms with hourly or unlimited video access.
About Global Conferencing Solutions:
Global Conferencing Solutions is a cloud-based service provider that leverages the latest technology from Radvision, an Avaya company to provide video and collaboration solutions to organizations around the globe. As true unified communications company, GCS connects a wide array of platforms including standards-based video endpoints, PC and Mac computers, 3G and 4G mobile devices, Microsoft® Lync™ clients, telephones, and immersive telepresence systems. For more information, visit http://www.gcshd.com or call (888) 851-4950.