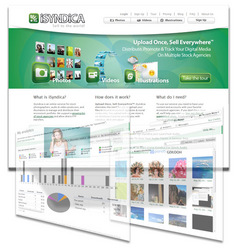 The new program will reward members 10 to 16% of the value of the paid subscriptions they generate through referral
Nashua, NH (PRWEB) April 13, 2010
iSyndica, an online management and distribution service for microstock portfolios, today announced that it is launching a new affiliate program that will enable members of any iSyndica subscription plan to earn cash for their referrals. The new program was developed in an effort to thank the many members that have discussed their use of iSyndica services with friends and colleagues, as well as provide more flexible options for making use of future earned rewards. Subscribers that wish to earn credits instead of cash, for example, can simply convert their rewards upon receipt, earning a 33% bonus in the process.
To date, the iSyndica referral program has only awarded credits - a unit worth one image distributed to one channel - for referrals. The new program will reward members 10 to 16% of the value of the paid subscriptions they generate through referral. Once their commission balance reaches a $50 value, they can elect to receive cash from iSyndica or transfer the amount into credits for distribution of images or videos.
"We're very happy to introduce new rewards for our members," said Hugo Angelmar, Program Manager of iSyndica. "Their loyalty and feedback is the driving force behind our development, and we wanted to give them something special for helping us to spread the word about how iSyndica can distribute the work of artists, photographers and videographers. We're excited to see how our members start putting the program to use."
To learn more about iSyndica's affiliate program, please visit http://www.isyndica.com/affiliate.
About iSyndica
iSyndica, a digital media distribution platform, simplifies online selling by distributing, promoting and tracking user content on multiple established channels. iSyndica's Upload Once - Sell Everywhere approach helps users increase their revenue while reducing their workload, whether they're distributing photographs, digital illustrations, audio files or video files. To learn more, please visit http://www.isyndica.com.
# # #