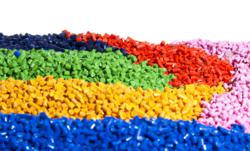 Microtrace taggants have been successfully incorporated into hundreds of millions of pounds of plastic for many years.
Minneapolis, MN (PRWEB) October 02, 2012
Microtrace, LLC., the original taggant company and leader of the taggant technology evolution for over 26 years, develops a revolutionary taggant technology for the plastics industry. Anti-counterfeit protection, quality control and traceability are issues all companies face. Although many options exist, each has limitations and offer very low levels of security, meaning counterfeiting and dilution remain common problems. Microtrace Molecular Taggants and Microtaggants provide limitless solutions and high levels of security making them ideal for providing anti-counterfeit protection and better quality control.
Microtrace Taggant Capabilities:
-Yes / No identification and authentication
-Verification of product specifications (intended market, manufacturing location, time of manufacture)
-Field quantitative analysis for quality control, product liability
-Dilution as low as 10%
-Mix ratios
Microtrace taggants are uniquely encoded materials or additives that can be incorporated into plastics to allow quick and easy field identification of finished product. Taggants act as virtual "fingerprints" and point the way to industry-leading anti-counterfeit protection.
New Molecular Taggant
Molecular Taggants can be accurately quantified in the field for quick and easy identification of genuine product, dilution levels and mix ratios.
Features:

Completely invisible and undetectable in finished product
Uniquely encoded for each customer or application, ensuring state of the art anti-counterfeit protection
Extremely low loading levels
Delivered as masterbatch concentrate per customer specifications
Typically used at a normal 1-2% letdown rate
Microtaggant® Identification Particles
The Microtaggant is ideal for quick yes/no identification and authentication of plastic parts in the field with inexpensive readers and detectors.
Features:

Range in size from 35 microns to several hundred microns (Microscopic particles)
Uniquely encoded ~ like a fingerprint
Multiple levels of security
Quickly and easily identified in the field with inexpensive readers and detectors
Covert and overt features
Delivered as a masterbatch or as dry powder
About Microtrace, LLC.
Microtrace works closely with customers in the plastics industry to formulate taggant chemistries and masterbatch delivery formats to meet the needs of each specific application.
In addition to taggant technologies, Microtrace offers a variety of solutions for product security, anti-counterfeit protection and brand security. Microtrace also custom designs, manufactures and installs turnkey laser systems for direct part marking of plastic parts.