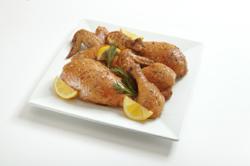 Cedar Rapids, Iowa (PRWEB) April 05, 2012
Air Chilled Halal Organic Chicken is another pioneering first by Midamar Halal Foods. Midamar has introduced the first USDA Certified, Halal, Air Chilled, Antibiotic Free and Organic chicken out on the market today. The chickens are humanely raised and processed in Iowa, USA and are now available at Organic Foods and Café in the United Arab Emirates – the first and most established Organic Foods retail grocer in the Arabian Gulf.
According to Gerwin Friedrichs Commercial Director of Organic Foods & Café in Dubai, "Like almost everywhere in the Western world, people have become more health conscious in the GCC. A lot of food intolerances are building up due to consumption of hitherto unknown foods and chemicals in local diets here. A lot of mothers want to feed organic food to their children in order to prevent harmful chemical pesticides entering into their loved ones young bodies, when they are at their most vulnerable." He added, "I have tried the Midamar Halal Air Chilled Organic Chicken. It is very tasty, has a solid texture and is juicy nevertheless."
Chefs, food service personnel and retail customers all attest to the unmatched flavor, texture and freshness of the Midamar Halal Organic Air Chilled Chicken. In 2011, Midamar Organic Chicken won the highly coveted Gulfood Award for "Best New Halal Food". Midamar is the first USA company to receive the award.
To achieve the award winning quality of its chicken products, Midamar begins with best possible genetics in the breed of chicken raised for harvesting. Next, quality control measures such as local incubation and feed purchasing keep the process environmentally friendly and allow for a close eye to be kept on every activity. Each bird is slaughtered in accordance to Islamic law (individually blessed, hand-cut and completely eviscerated). Midamar then uses The Air-Chilled Advantagetm to achieve a safe temperature for further processing.
The birds are raised humanely in an unconfined setting and are vegetarian fed a diet of grain and corn. They are separated during processing, reducing stress levels, and leading to better tasting chicken.
The majority of chicken processors use water-chilling; the immersion of fryers in vats of chlorinated, cold water, to rapidly reduce the fryer's temperature for safe handling through the duration of processing. Users of the technology admit that the water-chilled chickens absorb some of this water/chlorine mix during the water-chilling; making the fryer's weight artificially inflated by as much as twelve percent, costing consumers as much as 3 dirhams or more per fryer!
The Midamar Air-Chilled Advantage involves no water; chickens are chilled using pure, cold air that is circulated throughout the birds. Midamar employs a single level conveyor belt to cool the chicken, eliminating the risk of contamination and water retention. By employing the air chill technology Midamar presents a chicken with a firmer texture and superior taste while maintaining their commitment to responsible and sustainable business practices.
Customers will find Midamar Halal Air Chilled Organic Chicken in the Organic Foods and Café in the Greens and in Dubai Mall, Dubai UAE. The products will be available soon in the Organic Foods and Café in Abu Dhabi's Masdar City, the first carbon free community in the world. Midamar Organic Chicken will also be available for health conscious consumers in Bahrain, Qatar, and Kuwait stores in the near future.
The combination of healthy chickens, humane slaughter process, and state of the art environmentally sustainable cooling technology has resulted in award winning, top quality Halal organic chicken.
About Midamar
Midamar Corporation is the pioneer and leader in Halal food services. Midamar provides Halal food production and distribution, export management for US companies, and export services to restaurant concepts locating throughout the Middle East, South East Asia, and the Far East. Additionally, Midamar Corporation offers consulting services to US based companies who are expanding their business internationally. Founded in 1974, Midamar is centrally located in Cedar Rapids, Iowa, United States.