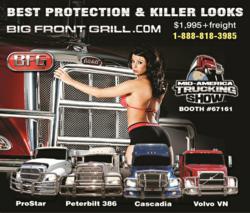 BFG's offer the most units of protection per dollar for fleets and professional truckers needing animal collision protection
Louisville, KY - MATS Booth # 67161 (PRWEB) March 22, 2012
The latest innovation in heavy duty animal collision protection for semi-trucks will be unveiled on Thursday, March 22nd at the world's largest truck show, MATS 2012.
Designed specifically to provide the most units of protection per dollar than any other functional grill guard on the market, the BIG FRONT GRILL offers class leading protection and killer looks for VolvoVN's, Peterbilt 386's, International ProStars and for Freightliner Cascadias.
These monster-sized bars are built with 4" and 3" stainless steel tubing, and are backed by heavy duty powder coated steel bracket that securely bolts onto the class 8 truck's frame rails and factory tow points. The BFG double reinforced slam latch locking system makes it one of the easiest to operate in the industry.
Big Front Grills will provide a competitive level of protection over traditional full bumper replacement grill guards and are in a class of their own when compared to other "cosmetic" tube type grill guard protection seen on the road today.
Visit the BIG FRONT GRILL booth at MATS (# 67161) and at America's Independent Trucker's Association Booth (#36121) and witness firsthand the newest standard "BIG TIME" animal collision protection professional truckers and fleets deserve to have.
You can also find out more at BIG FRONT GRILL'S Facebook page: http://www.facebook.com/BigFrontGrill and BIG FRONT GRILL'S YouTube Channel: http://www.youtube.com/BigFrontGrill