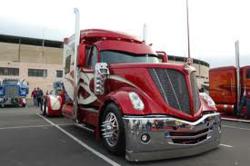 Shopping online for parts is where the industry is heading. There really isn't any way to avoid it.
Ocala, FL (PRWEB) December 17, 2011
The start of truck show season is heralded by the Mid America Truck Show in Louisville, Kentucky during the March 22-24th weekend. It is one of the largest industry specific conventions in the world; the Kentucky Exposition Center is in the top ten for largest convention centers in the United States. For online retailers it is a chance to meet their customers face to face and bring a digital shopping experience to life according to Raney's Truck Parts.
Chrome shops have traditionally been a hands-on experience. Drivers can pull up their truck when they have some downtime, get it washed and browse the store. Some are as small as gift shops while others are warehouses, with all of the goods on display. As the Internet has grown in popularity and more and more people have gained access to smart phone technology, shopping online has become the paragon of convenience. Truckers have found that it is nice to order while you are on the job and come home to a box full of parts at your doorstep. Some people will even send parts to route boxes and pick up on a long haul.
Trucking is a career steeped in tradition, so it can be hard to introduce new ways to operate. Many owner/operators drive trucks that are upward of thirty years old. Some of these trucks have been repaired countless times and customized to reflect the personality of the person behind the wheel. This makes it even more important to get the chrome accessories right the first time. It is hard to get this assurance when buying online. Online chrome shops understand this and hope to make a statement at the 2012 Mid America Truck Show by offering tutorials on the shopping process. The most important variables when selecting a truck part are the year of the truck, the make and the model. By showing people you don't have to be a mechanic to order parts it will demystify online stores a bit more and hopefully bring in a new wave of customers to a growing industry.
"Shopping online for parts is where the industry is heading," says Mark Raney. "There really isn't any way to avoid it. You have guys who are trying to work hard that don't have time to seek out chrome shops. We started our website to help deliver this service"
Raney's Truck Parts is one of the many sites being featured at the convention. Parts are offered online for all major truck manufacturers; Peterbilt, Freightliner, Volvo, Kenworth, International, Mack and Western Star. Customized parts are also available for show rigs.
All of the information about the truck show can be found on the Mid America Truck Show website. It highlights the truck show submission process, vendor locations and musical events. It is a must attend event for anyone in the heavy-duty industry.
For additional information please contact:
jakec(at)raneys(dot)com - Director of Marketing | http://www.raneystruckparts.com
# # #