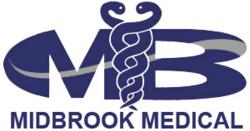 Jackson, MI (Vocus/PRWEB) February 27, 2011
Midbrook Medical, the Jackson, Michigan, based manufacturer of custom fabricated medical equipment and medical decontamination systems has launched a new website following a comprehensive redesign. The new homepage features an in depth look at the different products offered by Midbrook Medical and features several ways for visitors to engage with the company through blogs, Facebook, and other media.
The new layout of MidbrookMedical.com was designed specifically to improve ease of navigation around the site. All of the various Midbrook Medical products are subdivided by the type of facility they are intended for: Acute Care, Ambulatory Centers, Life Sciences or Extended Care. This helps healthcare personnel easily find the type of products they are looking for to supply their particular type of facility. The site also includes a wider range of images and video to give visitors a better idea of how the product will look in their facility. For fabrications such as case carts, the site also includes pricing for standard sizes.
Another major goal of the website redesign was to get visitors more involved with Midbrook Medical. Visitors can now integrate with MidbrookMedical.com using their personal Facebook account. In addition, they can sign up to receive email communications from Midbrook Medical, such as special offers and news about upcoming events. Upcoming events can also be viewed on a calendar within the site, showing visitors where they can see Midbrook Medical products in person at upcoming healthcare industry trade shows.
Finally, visitors can learn more about Midbrook Medical and issues facing the healthcare industry on the Midbrook Medical Blog. The blog is written by personnel at Midbrook Medical who are intimately familiar with the healthcare industry, and is a great way to get some insight into important topics within healthcare. Visitors are also encouraged to voice their own thoughts and opinions in the comment section.
By redesigning their website, Midbrook Medical hopes to better engage their customers, not just about their products, but the healthcare industry as a whole. By better understanding their customers, they hope to be better able to provide them with the equipment and services they need to keep their facilities running smoothly.
For more information about Midbrook Medical and its custom fabricated medical equipment and decontamination systems visit http://www.midbrookmedical.com, or call 1-517-787-3481.
Midbrook Medical is the minority owned, women owned, Michigan based solution provider to the Healthcare market. Midbrook is not a medical company looking to be a copy cat distributer of decontamination equipment. Rather, Midbrook is the world leader in custom designed, process specific cleaning equipment focused on taking the expertise learned in other industries and applying it effectively to issues within the medical industry in order to provide cleaner instruments that will, in turn, make sterilization more effective.
###