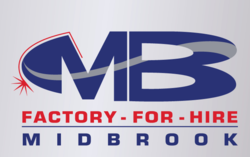 Let us help make your dream a reality.
Jackson, MI (PRWEB) June 11, 2013
According to Midbrook Factory-for-Hire, the US economy will only grow if they are part of the means by providing a platform to support the entrepreneurs, the innovators, the leaders. The entrepreneurial minded at Midbrook, see in their customers the drive to bring more value to the market and, of course, to profit from the courageous choice to be innovative.
Sales representative Erik Lathers says, "Let us help make your dream a reality." If business or individuals have an idea but no clue how to put it all together, Midbrook can take care of production, packaging, and shipping as well as help you build relationships with supportive, solid vendors. If someone has a design but no factory space and no workers, Midbrook has 200,000 sq. ft. and skilled tradesmen to go with it. If someone has just a really good thought they cannot let go of, Midbrook will work to help develop, design, and engineer that thought into something substantial.
Midbrook, Inc. understands success and progress is not possible without an idea and the means to bring that idea to life. Midbrook provides a "Factory for Hire". A willing, enthusiastic partner to help big ideas move forward; Midbrook's new website highlights those values and goals.
Midbrook Factory-For-Hire, located in Jackson, Michigan, is a custom metal fabricator with over 30 years of experience. Midbrook will provide design assistance or we will simply build to a client-provided print. This work includes all guarding, metal assemblies, or laser cut production parts.
In addition, Midbrook provides each client with a factory-for-hire complete with expertise, manufacturing, floor space, and labor. Whether your needs require production washing, hydro deburring, robotic deflashing, or light assembly, Midbrook can be your resource to perform any task within your delivery schedule.
For more information contact Midbrook today:
Phone: (517) 787-3481
Email: sales(at)midbrook(dot)com
Website at http://www.midbrookfactoryforhire.com.