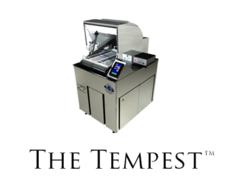 It might be time to start treating endoscopes like tattoo needles—making sure only unused ones go into your body.
Jackson, MI (PRWEB) June 26, 2013
"It might be time to start treating endoscopes like tattoo needles—making sure only unused ones go into your body…" This quote begins the Medical Daily article about some disturbing results recently published from an article by Anthony Rivas on an infection prevention study on June 9, 2013. The study found that 15% of endoscopes tested were contaminated with bioburden, making them capable of passing on infections and diseases. In the age of superbugs and increasingly deadly viruses, the response voiced by the Medical Daily might seem natural. Those at Midbrook Medical, however, see these study results as more support for highly advanced cleaning technologies such as those found in their Tempest Washer.
Sales representative Dan Brady elaborates, "Those endoscopes tested in the study weren't used 50 years ago. So why would we expect cleaning methods from 50 years ago to be effective? Our medical procedures have come a long way, and the standards for cleanliness need to catch up."
Midbrook Medical designed their Tempest Washer to help close that gap. The Tempest is the result of nearly 40 years of experience with cleaning and decontamination systems. When Midbrook Inc. was founded, they were producing washers and sterilizers for the industrial world, constantly updating their procedures and machines to keep up with available technology. After Midbrook Medical was formed in 2007, they applied what they already knew about the most advanced cleaning technology to the healthcare world.
The Tempest Washer combines mechanical and chemical actions from multiple industries including: ultrasonics, enzymatic soaks, agitation, exterior and interior sprays, and air injection bubble cavitation system. Its automated process provides a consistent cleanliness level and allows Sterile Processing Department workers to focus on combating infection transmission elsewhere. The Tempest is specifically designed for intricate da Vinci tools and other endoscopes like those tested in the study.
As for the Medical Daily's suggestion that endoscopes be treated like tattoo needles and disposed of after one use, those at Midbrook Medical argue that is unnecessary.
"Instruments treated by the Tempest have been tested repeatedly and have repeatedly shown cleanliness levels well beyond requirements," Brady continues, "so there is no need to waste the money or material needed to make countless disposable surgical tools."
Midbrook Medical provides sterile processing departments, surgery centers and acute care facilities across the globe, with top of the line infection prevention cleaning and decontamination products and equipment.
For more information on Midbrook Medical's innovative, state of the art products for Infection Prevention and Sterile Processing Departments, contact:
Midbrook Medical
2080 Brooklyn Rd.
Jackson, MI 49203
517-787-3481
Website: http://www.midbrookmedical.com
Email: sales(at)midbrook(dot)com
Or check out Midbrook on:
Facebook- http://www.facebook.com/midbrookmedical
Twitter- @midbrookmedical
LinkedIn- http://www.linkedin.com/company/695360?trk=NUS_CMPY_TWIT
Midbrook Medical Blog