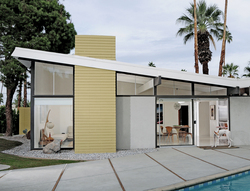 "Palm Springs is a mecca for Mid-Century and Modern Architecture," stated Paul Kaplan, Mid-Century modern real estate specialist and sponsor of this year's tour.
Palm Springs, CA (PRWEB) November 1, 2010
Attention mid-century modern architecture buffs- The Palm Springs' Modern Heritage Fund's 2010 annual home tour is scheduled for November 6 sponsored by Paul Kaplan. This year's tour will be covering distinctive architectural residences in Rancho Mirage and Palm Springs. The tour will include a rare opportunity to discover a selection of magnificent estates behind the gated hillside community of the exclusive Thunderbird Heights, and other modern homes in Palm Springs, open for the very first time to tour participants.
"Palm Springs is a mecca for Mid-Century and Modern Architecture," stated Paul Kaplan, Mid-Century modern real estate specialist and sponsor of this year's tour. "We're fortunate to have so many excellent examples of "Desert Modernism" available for current modernist fans to tour and appreciate."
In the middle years of the 20th century the mountains and desert sands of California's Coachella Valley inspired a distinctive branch of the Modern Movement that would become known as Desert Modernism. Notable for its use of glass, deep overhangs, natural and manmade materials, and indoor/outdoor spaces, Desert Modernism embraced mountain views and the area's warm climate, defining a lifestyle of elegant informality. This design atmosphere inspired talented local and visiting architects, including Richard Neutra, William Krisel, Donald Wexler, Albert Frey, among others, to adapt contemporary materials, techniques and floor plans to the unique requirements of desert living in creating modern structures of every size and function.
The recent popularity of Mid-Century design, has sparked a renewed interest in modern architecture and real estate in Palm Springs, according to Paul Kaplan, who recently formed The Modern Real Estate Group which specializes in Mid-Century properties for sale. Numerous tours and design related events are scheduled throughout the year catering to tourists and residents alike that have a passion for design and architecture. Paul Kaplan, an avid advocate for historic preservation, is also a key sponsor of the Palm Springs 6th annual Modernism Week in February, and the Palm Springs Preservation Foundations' Alexander Weekend 10 year Anniversary Tour in March.
"Although I've been studying and selling mid-century properties in Palm Springs for almost a decade now, I'm still constantly discovering hidden architectural gems throughout the Coachella Valley, " said Kaplan. "This year's Modern Heritage Fund's Home Tour is a rare peak inside some properties that have never before been open to the public."
The Heritage Fund was established as a §501(c)(4) organization specifically to support local political candidates who share our views about Palm Springs's historic modern architectural heritage. As such, while ticket purchases are not tax deductible, your dollars go directly toward fulfilling this critical purpose.
The day long self driving tour will include eight homes and will conclude with a wine and cheese reception. For more information on the this year's mid-century architectural tour as well as Palm Springs real estate, MidCenturyModernPS. Photos by Daniel Chavkin. Additional information by PS ModCom.
###