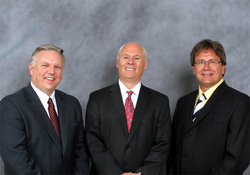 We are very fortunate having this opportunity to succeed to ownership of the company that means so much to us
Sioux Falls, S.D. (Vocus) August 9, 2010
Three long-time employees and minority shareholders of Midcontinent Media, Inc., Patrick McAdaragh, Dick Busch and Steve Grosser, have bought out the remaining shares of Midcontinent Media, Inc., a privately-held company with operations in South Dakota, North Dakota and Minnesota. Midcontinent Media is the managing partner and 50 percent owner of Midcontinent Communications, the region's largest cable and broadband company, and owns 100 percent of Midco Connections, a customer-contact center business in Sioux Falls that serves the direct marketing industry.
McAdaragh, Busch and Grosser have increased their ownership stake in the company to 100 percent by purchasing the remaining shares from the estate of the company patriarch, Larry Bentson, who died in 2009 at the age of 87. Each of the three new owners will have a one-third interest in the company. Retired Midcontinent president and chief executive officer Mark Niblick will continue to serve as chairman for Midcontinent.
McAdaragh, president and chief executive officer of Midcontinent, is a Sioux Falls, South Dakota native, an Augustana College graduate and a 30-year Midcontinent employee. Busch, Midcontinent's chief operating officer, is from Rugby, North Dakota and graduated from North Dakota State College of Science and the University of Sioux Falls. Busch has been with Midcontinent for 34 years. Grosser, the company's chief financial officer, has been with Midcontinent for 20 years and is a native of Cokato, Minnesota and a St. Cloud State University graduate.
"We are committed to continuing the tradition of Midcontinent's founders to operate a customer- focused company that has a family feel to our employees," said McAdaragh. "Fellow Midcontinent employees and our customers are our friends, family and neighbors. We strive to bring them the best products and services available and to be a great place to work. In addition, we will continue our founders' tradition of investing in the communities that have welcomed us."
Busch said that as new owners they will continue in their current roles in guiding the company forward. "We have a strong team of over 1,100 staff members—many with long tenure with the company—who understand that the customer always comes first," he said. "While we continue to move forward, we have the stability of a very competent, dedicated workforce at the core of everything we do."
The company was founded when partners Eddie Ruben and Joe L. Floyd started a chain of movie theaters in Minnesota in the early 1930s and later, with Larry Bentson, eventually expanded into the radio and television business in the Dakotas in the 1940s and 1950s. They continued to invest in the latest technology bringing the region into the cable and Internet age. In 1968, Floyd's son, Joe H. Floyd, joined Midcontinent to help build the fledgling cable business, eventually becoming president and chief operating officer in 1995. Joe H. Floyd retired in 2001. Mark Niblick joined the company in 1985, serving variously as general counsel, chief financial officer and finally as president and chief executive officer. Niblick retired from executive duties in 2007.
"We are very fortunate having this opportunity to succeed to ownership of the company that means so much to us," McAdaragh said. "While the original founding trio of Eddie Ruben, Joe L. Floyd and Larry Bentson are no longer with us, we still rely heavily on the counsel of our two retired leaders, Joe H. Floyd and Mark Niblick. Not only are we fortunate to have this ownership opportunity, we are privileged to have learned from these five outstanding individuals."
"Larry Bentson wanted to continue the Midcontinent legacy even after he was gone, and he wanted management to have an opportunity to carry on this legacy," said Grosser. "In a world of economic uncertainty and private equity buyouts, some believed his desire was not feasible. Larry's planning made the smooth transition of ownership a reality. His foresight means that Midcontinent will continue to treat employees as partners and customers as neighbors."
Midcontinent Communications is the Upper Midwest's leading provider of cable television, telephone, broadband Internet and cable advertising services for approximately 250,000 residential and business customers throughout the Dakotas and Minnesota. Midco Connections is a telemarketing organization that offers inbound-call services to companies around the world. Midcontinent Communications and Midco Connections are subsidiaries of Midcontinent Media, Inc.
Links:
Midcontinent Communications
Midcontinent Media, Inc.
Midco Connections
Press Kit
Press Room
Image Library
Timeline
Media Contact: W. Tom Simmons
Senior Vice President of Public Policy
Midcontinent Communications
605-357-5491/1-800-888-1300, ext. 5491
###