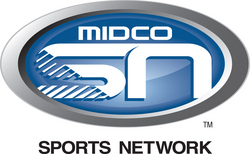 We are very excited to bring professionally-produced live sports to our customers.
Sioux Falls, SD (Vocus) August 18, 2010
Every hit. Every dunk. Every hat trick. Every dig, bump and kill. Live coverage of regional sporting events is coming direct to viewers' homes thanks to Midco Sports Network (MidcoSN), a new all-local sports TV network from Midcontinent Communications. Midco Sports Network will deliver sporting events of colleges, universities and high schools in North Dakota, South Dakota and Minnesota.
"Our customers have been asking for more local and regional sports coverage," said Pat McAdaragh, Midcontinent's President and CEO. "We are very excited to bring professionally-produced live sports to our customers. Live production is very expensive, but with our company's broad coverage area and fiber-optic network, we are able to produce events more economically than others. A regional sports network is a natural fit for us."
Sporting events in North and South Dakota, and rural Minnesota are not often on TV, but Midco Sports Network will bring many of these events to viewers. "We will do our best to balance our schedule to include games from all over our coverage area," said McAdaragh. "Personally, I am really charged up about Midco Sports Network, because I am a big sports fan and have been involved in sports all of my life."
The new network will cater to avid sports lovers by focusing on the region's college, high school and youth sporting events, as well as sports-lifestyle programming. Offered in both standard and high-definition, the new network will deliver local content focused on sporting events that are not typically televised. Most events will also be available on Video On Demand. A complete schedule of game coverage and more information is available at midcosportsnet.com.
"Fan interest in local sports teams is booming," said Midcontinent's Director of Programming, Wynne Haakenstad. "That creates an opportunity for Midcontinent to deliver dozens of previously untelevised basketball, football, hockey and volleyball events to the vast number of consumers who are passionate about sports in our region."
Midcontinent, led by Executive Producer Craig Floyd, has been working to develop this network for the past two-and-a-half years. "We are truly ready for the big game," said Haakenstad.
Midco Sports Network is a division of Midcontinent Communications and will go by the shortened name of MidcoSN. Midcontinent Communications is the Upper Midwest's leading provider of cable television, local and long distance telephone service, broadband Internet access and cable advertising services. Midcontinent's service area includes over 240 communities with more than 250,000 customers in North and South Dakota and Minnesota.
Links:
Tom Nieman Explains Midco Sports Network
Uber Fan – Chest Bump
Media Contact:
Tom Nieman
Programming Director
605-274-2916
TOM_NIEMAN(at)MMI(dot)NET
###