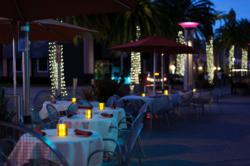 The new Arya in Redwood City will be open seven days a week for lunch and dinner
Cupertino, CA (PRWEB) March 08, 2012
San Jose Middle Eastern Restaurant, Arya Restaurant, now located in Redwood City, in addition to its original Cupertino location, is announcing the availability of patio dining, banquet rooms and two wine bars in the new downtown Redwood City location.
"The new Arya in Redwood City will be open seven days a week for lunch and dinner," Fera Hashemi of Arya Restaurant said. "We are featuring specialties like the eggplant borani, kebobs, saffron scallops, red velvet salmon and exotic bumba (white chocolate shell, with a center of mango and raspberry sorbetto)."
In addition to its patio dining experience, Arya Restaurant in Redwood City offers live jazz music and belly dancing on Fridays and Saturdays. The banquet rooms are also a delight for private parties and large events.
"My husband and I have been dining regularly at Arya Restaurant in Cupertino for more than a year now. Tonight, we decided to try the brand new, second Arya Restaurant in Redwood City. We were so impressed by the beautiful decor and ambiance. The food and the presentation are as wonderful as the Arya Restaurant in Cupertino, but this time, I decided to try a new dish to me: Pollo Firenze (chicken breast stuffed with ricotta, mozzarella, parmesan cheese and spinach, oven baked and topped with a lemon sauce). It was simply delicious!" Jenny U. of San Jose said on Yelp.com.
For more information about any of Arya Restaurant's products or services, call 408-996-9606, view the Middle Eastern restaurant on the web at http://www.aryarestaurant.com or visit its two locations at 19930 Stevens Creek Blvd. in Cupertino or 885 Middlefield Road in Redwood City.
About Arya Restaurant
San Jose's Arya Restaurant is a Middle Eastern restaurant that features belly dancing, global cuisine, and delicious and exotic Persian and Italian food. The restaurant is the result of Chef Mike Hashemi's love for Persian and Italian food, as well as his love for cooking and serving the people with the best of both worlds. Arya's San Jose banquet rooms are available for every occasion.
###