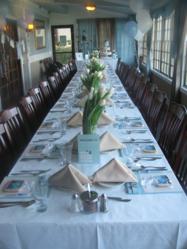 Event planners and corporate companies can get a special treat, if they book and sign up for a holiday event by October 30
Cupertino, CA (PRWEB) September 23, 2011
Arya Global Cuisine, a San Jose area Middle Eastern restaurant, has introduced holiday packages and other specials for their loyal clientele to enjoy. Booking any holiday event with Arya, including private rooms and special packages, can cost as little as $25. Special offers include full bar, belly dancing on the weekends and live Italian jazz or Persian music on Saturdays.
"Event planners and corporate companies can get a special treat, if they book and sign up for a holiday event by October 30," said Fera Hashemi of Arya Restaurant. "They can get a free champagne toast on us, 10 percent off the total bill or complimentary appetizers."
Arya Global Cuisine Restaurant in the San Jose area loves to make every guest feel special. Every customer will be comfortable in business or casual attire in the restaurant's casually elegant environment. Take-out orders and deliveries provide a convenient way to enjoy Arya's delicious food. Enjoy dessert or cocktails in front of the fireplace or reserve one of their banquet rooms for any special occasion. Customers will enjoy the service from the restaurant's warm and friendly staff.
Arya is the perfect place to spend happy hour. Running from 4 p.m. to 7 p.m., the restaurant's happy hour combines great food and drinks at a discounted price in a relaxing atmosphere. It's the ideal place to unwind after a long day and enjoy the music or catch up with friends.
For more information on Arya Restaurant, call 408-996-9606. Visit them at 19930 Stevens Creek Blvd., Cupertino, CA 95014 or on the web at http://www.aryarestaurant.com for their banquet menus.
About Arya Global Cuisine
Arya Global Cuisine in the San Jose area is a Middle-Eastern restaurant that features belly dancing, global cuisine and delicious and exotic Persian and Italian food. The restaurant is the result of Chef Mike Hashemi's love for Persian and Italian food, as well as his love for cooking and serving the people with the best of both worlds. Arya's banquet rooms are available for any occasion.
###