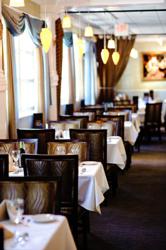 Spend the holidays in style and delicious taste. We want everyone to join us and spend this special time of the year with family and friends
Cupertino, CA (PRWEB) November 19, 2011
San Jose Middle Eastern Restaurant, Arya Global Cuisine Restaurant is inviting guests for the holidays. This time of the year is the perfect moment to spend time with loved-ones in celebration of the year's achievements. Arya prides itself on its style, comfort and distinction, which create a unique and memorable dining experience.
"Spend the holidays in style and delicious taste. We want everyone to join us and spend this special time of the year with family and friends. We will be open for Christmas Eve with our regular menu as well as holiday chef specials for the event," said Executive Chef Mike Hashemi of Arya Restaurant.
For the holidays, Arya Global Cuisine Restaurant is offering a Persian and Italian cuisine that is sure to be a gastronomical journey. Their New Years' Eve package includes a four-course menu, with a choice of eight different entrees, party favors, belly dancing, an international DJ, champagne toast and lots of dancing.
For the first course, diners will enjoy a sampler of four appetizers: Pistachio pomegranate meatballs, homemade delmeh, Eggplant Borani or sambosa.. The second course is an Arya salad made with baby mixed greens feta cheese, walnuts and roasted pepper. The third course offers customers eight entrees to choose from such as Capesante e Portabello, grilled jumbo scallops with marinated Portobello mushrooms topped with Dijon mustard; and Seabass Pistachio, seabass encrusted in pistachios baked to perfection and topped with lemon crème sauce. The final course is dessert, a chocolate lava cake with Persian pistachio ice cream.
Food lovers, party-goers, families and friends are all invited for unforgettable holiday parties at Arya Restaurant. For more information, call 408-996-9606 or visit http://www.aryarestaurant.com. Arya is located at 19930 Stevens Creek Blvd., Cupertino, CA 95014.
About Arya Restaurant
Arya is now in its fourth year of hosting wonderful Christmas and New Year celebrations in San Jose. The Middle Eastern restaurant is surrounded by beauty, exotic cuisine and casual elegance. It can provide customers with delivery and catering, wines, private functions, banquets rooms, happy hours and entertainment.
###