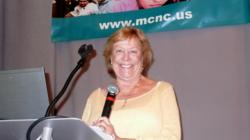 This year's Winter Conference will give educators additional tools to return to their schools and conduct the thorough professional development needed to implement the Common Core in their classes
New York, New York (PRWEB) February 06, 2013
A record number of schools, over forty, will gather once again in Newport Beach, California for Middle College National Consortium's (MCNC) 21st annual Winter Principals' Leadership Conference. The conference will be held from February 14th to February 16th and provide extensive professional development for school and district leaders in implementing the Common Core State Standards. Two highly respected experts in the field of professional development, Associate Professor of Education Leadership and Adult Learning & Leadership Eleanor Drago-Severson from Teachers College, Columbia University and Dr. Lance Ozier, Senior Literacy Specialist from the Institute for Student Achievement, will conduct the workshops.
As a developmental psychologist, Professor Drago-Severson's work is inspired by the idea that schools must be places where adults and children can grow. She is also an internationally certified developmental coach who works with principals and leaders to build internal capacity and achieve goals. Dr. Ozier is the Institute For Student Achievement's senior literacy specialist. He supports the implementation of Common Core literacy standards across the content areas, along with the development of CCSS aligned curriculum and performance assessments.
In all fields of endeavor in order to be successful people must learn and grow. This is no less true in education that any other profession. Professor Drago-Severson will conduct an all day workshop on the topic of Helping Educators Grow. In this workshop, Professor Drago-Severson presents a new learning-oriented model for designing and facilitating professional development which draws from adult developmental theory and more than 20 years of research with educators around the globe. Conference participants will learn about and apply theory, models and practices for enhancing learning designs to better support adult learning and development, increase student achievement, improve practice, attain results, renew yourself and build capacity within schools and systems.
Dr. Ozier will follow Professor Drago-Severson with an all day workshop on best practices in implementing the Common Core in the classroom. He will provide principals and school leaders with experiences that demonstrate sample curricula with instruction needed to increase CCSS skills. Through modeling and reflection, participants should be able to implement strategies from the sessions with teachers in their schools. Lance will incorporate resources from the Literacy Design Collaborative, an initiative intended to support teachers with the creation of CCSS units of study that embed performance assessment.
Dr. Cecilia L. Cunningham, founder and Director of Middle College National Consortium, remarked that, "This year's Winter Conference will give educators additional tools to return to their schools and conduct the thorough professional development needed to implement the Common Core in their classes". The MCNC Winter Principals' Leadership Conference is open to all middle/early college high schools and schools interested in learning more about becoming a middle/early college school. You can register for the conference here.
Middle College National Consortium, headquartered in New York City, is a leader in the movement to establish and sustain high school/college dual enrollment as a viable and necessary educational model. Middle College National Consortium's mission is to develop small schools in which high school students, especially those who have been previously underserved by their former schools, can earn both a high school diploma and either an associate's degree or transferable college credits upon graduation.
To learn more about the Middle College National Consortium, visit us at (http://www.mcnc.us/) for a comprehensive overview of our history, design principles, current work and achievements.
Contact information
Tony Hoffmann
Middle College National Consortium
http://mcnc.us
###