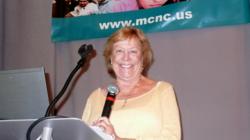 Since 2006 the number of students gaining college credit in member schools has doubled and the pass rate has remained constant at 92%
New York, NY (PRWEB) July 10, 2012
Middle College National Consortium (MCNC) successfully held its highly touted Summer Professional Development Institute from June 29-July 2 in Jersey City, New Jersey, drawing 175 attendees from over 35 schools and school districts. The theme of this year's Institute was Building For the Future-College and Career Readiness. Nancy Hoffman, Vice President and Senior Advisor at Jobs For The Future, kicked of the conference with a keynote address that focused on her research on the role of work and career and technical training in European countries. She noted that the level of implementation of the work experience and internships in secondary schools is highly correlated with economic stability. Ms. Hoffman concluded her remarks by emphasizing the role of productive work and how good work experiences in adolescence develops a set of skills needed for success in college and careers later in life.
The conference was organized around nine sub-themes that supported the main theme of Career and College Readiness. With forty-six of the fifty states having signed on to the Common Core State Standards it was no surprise that the sub-theme of Common Core-Ready Or Not received a lot of attention. Workshops such as Instructional Rounds and the Common Core Standards, Social Studies and the Common Core-Aligned Independence, Inquiry Circles For Cognitive Skills and Common Core, and Integrating Common Core Into the Peer Review Process were all well attended.
Under the sub theme of Technology, the workshop Incorporating IPads In The Classroom was a clear favorite. This workshop looked into how students can be motivated by IPads, how teachers can create their own IPad lessons and which IPad applications may impact student learning.
Also attracting a good deal of attention was Student Support and College and Career Readiness. The workshop Advisory - Developing Activities That Support Early College Students in College Classes was packed with conference attendees. Participants shared and created early college advisory/seminar curricula, and learned how to teach college skills such as note taking, test prep, time management, and decoding college texts.
MCNC is a pioneer in developing small schools on college campuses where high school students, especially those who have been previously underserved by their former schools, can earn both a high school diploma and either an Associate's degree or transferable college credits upon graduation. Dr. Cecilia Cunningham, Director and founder of MCNC, reported to the assemblage that "Since 2006 the number of students gaining college credit in member schools has doubled and the pass rate has remained constant at 92%."
MCNC, headquartered in New York City, is a leader in the movement to establish and sustain dual enrollment in high school as a viable and necessary college readiness educational model. To get a comprehensive overview of the history, design principles, current work and achievements of the Middle College National Consortium, please visit us at
http://www.mcnc.us.
Contact information
Tony Hoffmann
Middle College National Consortium
O. 718-361-1981 X6
THoffmann (at) mcnc (dot) us
http://www.mcnc.us