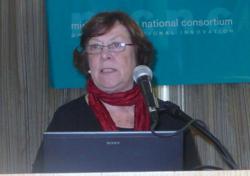 This JAM offers a unique opportunity for educators to share successes and seek solutions to scaling issues
New York, New York (PRWEB) October 17, 2011
A coalition of Early College Intermediaries announced today that they will hold a first of a kind JAM on "Scaling the Best of Early College". The intermediaries are national and statewide groups that work with underserved youth. They have each had important success in preparing college ready students using Early College models. They hope that the JAM will allow a broad group of practitioners and policy makers to examine Early College and discuss how key elements can be adapted to help large scale public systems equip underserved students for college success and completion.
A JAM is an online moderated exchange. The discussion is asynchronous, so participants come and go as their schedules permit. It allows far flung professionals of diverse backgrounds and experiences, who might not ordinarily communicate, to gain from one another's perspectives. This JAM will bring together early college teachers, college faculty, high school and college administrators, researchers, education professionals and policy makers.
According to Dr. Cecilia L. Cunningham, founder and director of MCNC (The Middle College National Consortium), "This JAM offers a unique opportunity for educators to share successes and seek solutions to scaling issues."
The JAM will take place on Wednesday, November 2, 2011 from 11:00 AM-7:00 PM (EST)
The JAM's sponsors include The-Middle College National Consortium (MCNC), The Woodrow Wilson National Fellowship Foundation, North Carolina New Schools Project, University System of Georgia, Early College Design Services/Jobs For The Future, Gateway to College National Network, and Texas High School Project. Early College schools provide underserved students with a college preparatory experience, which includes rigorous high school and college classes (dual enrollment) that give high school students a head start on a college degree. They also help high school and college faculty to align curriculum and collaborate pedagogically.
To learn more about the "Scaling the Best of Early College…" JAM see an informational video at http://www.mcnc.us/professional-development/JAM-2012/earlycollegevideo/. To register go to https://www.surveymonkey.com/s/EarlyCollege. For more information contact:
Adana Collins (acollins(at)mcnc(dot)us) at MCNC or
Doris Reeves-Lipscomb (dreeves-lipscomb(at)kpublic(dot)org) at KPI
###