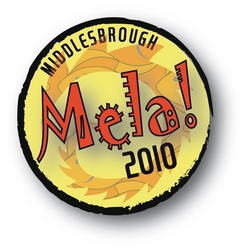 But the event doesn't stand still and there are plenty of new attractions and entertainment to ensure it's fresh, relevant and has something for everyone.
(PRWeb UK) July 9, 2010
A feast of music, dance and fantastic family entertainment is in store at this year's Middlesbrough Mela.
The event – on Saturday, July 17 and Sunday, July 18 – is now in its 20th year and is expected to attract crowds of more than 30,000 to see a top notch line-up of world class acts at its Albert Park home.
The Middlesbrough Mela is one of the region's biggest annual attractions and there's no let-up this year with some truly stellar performers.
The unique mix of music, local talent, the Mela Bazaar and a new Open Performance Area are sure to attract many thousands from across the North East and further afield.
After the disappointment of last year's cancellation due to torrential rain, organisers are delighted to be welcoming back headliner HunterZ who will be performing his massive hit single 'Tere Bin Dil Mera Lagda Na' and former Britain's Got Talent finalists Signature on 'Celebrate Sunday'.
HunterZ is one of the most accomplished Asian artistes in the UK. Trained in Indian classical music, he has developed his own unique sound heavily influenced by his love of western funk, soul, rock, hip-hop and R&B.
Meanwhile Saturday, July 17 is 'Activate Saturday' and home to the Sports Mela, with a huge array of activities headlined by rapper Christian 'Xtn' Onwochei, including dancing from around the world and a stage full of local talent.
The Big Lunch covered seating area will provide a great spot for a bite to eat over the weekend – bring your own food, or pick up a tasty snack from one of the dazzling array of stalls in the Bazaar.
And Cineworld will once again be hosting a Mela Special of two films – Kites and Raajneeti – throughout the event, while the Dorman Museum will be offering a masterclass in Mega Mela Mask Making in the museum gardens on Celebrate Sunday.
Middlesbrough Deputy Mayor Dave Budd said: "We were desperately unlucky last year when the rain forced cancellation at the last minute.
"But I'm delighted to see the Mela's back and it's going to be bigger and better than ever.
"Middlesbrough is a thriving multi-cultural town and the Mela is a terrific showcase for the town's diverse and harmonious communities.
"I'm looking forward to a first-rate celebration of all the things that make this a great town to live in."
Mela chair Satnam Singh said: "People know what to expect at the Mela and they won't be disappointed this year – that's why the crowds grow with every staging of the event.
"But the event doesn't stand still and there are plenty of new attractions and entertainment to ensure it's fresh, relevant and has something for everyone."
Main stage programmer Kash Patel added: "The Middlesbrough Mela has grown over a number of years to become a truly fantastic event which draws people from all over the country.
"It is renowned as a safe, family fun day for people from all sectors of society regardless of race, religion, age or social status – a true advert for community cohesion and cultural diversity.
"As ever it's bringing the best national and international artists to Middlesbrough, with something to appeal to all generations.
"As ever, none of this would be possible without the dedicated individuals who work hard all year round, in the process creating a deep-rooted spirit of unity and togetherness."
The Mela will also play host to The Tate Movie Truck, a collaboration between Tate Galleries and Aardman, the animation company behind Wallace and Gromit, in partnership with creative agency Fallon. They will be producing the Tate Movie, the first of its kind – an animation film made by and for children across the UK.
Entry on both days is free, although admission will be charged to rides and some children's attractions.
For further information, contact Mela co-ordinator Teri Sayers on 01642 729138.
###