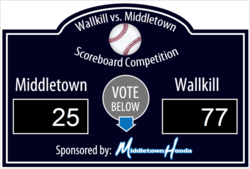 Middletown, NY (PRWEB) May 15, 2012
Middletown Honda in New York has long been one of the area's top auto dealerships, and their commitment to their customers extends far beyond their extensive selection of new Honda vehicles — they are also proud to be an active participant in the community. To that end, Middletown Honda is delighted to host a Facebook competition between the towns of Middletown and Wallkill, giving area residents a chance to vote on which town will win a new scoreboard for their youth sporting event fields.
The contest will last for fourteen days and will be hosted on Middletown Honda's Facebook page. When users "like" the page, they will have the option of voting for Middletown or Wallkill, which will require users to submit their name, zip code, and email address. A scoreboard on the page will keep a running total of the votes, so participants can check back in each day to see which community is the frontrunner to win the scoreboard. This also gives fans a chance to rally their friends and family behind their town. It's a fun way to contribute to a great cause, and it's sure to engage people throughout both communities.
This latest initiative is further proof of Middletown Honda's commitment to giving back not only to Middletown, but to the surrounding communities as well. There's a reason, after all, that Middletown Honda continues to be the preferred car buying destination for drivers from all over the Orange County area, and it's about more than just their great deals. Drivers who shop at Middletown can feel good about their choice in a dealership, and that is perhaps the greatest car-shopping reward of all!
Middletown Honda is proud to offer great prices on all the latest Honda vehicles, as well as an exceptional selection of pre-owned models for drivers throughout the Middletown and Wallkill communities. Those who are looking to purchase their vehicle from a proven contributor to the community will do well to their Honda dealership in Middletown for a test drive, and residents will want to keep an eye on their Facebook scoreboard contest to see which town gets the highest number of votes toward the end of the month!