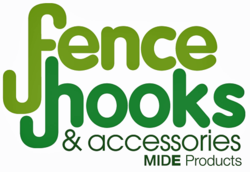 Exposure to the over 300 more dealers is tremendous for our company
Elkhart, IN (PRWEB) May 24, 2012
MIDE Products manufactures aluminum fence hooks designed to help organize and beautify pools areas, backyards and decks. Over the past three years the company has grown significantly with the help of partners such as Aquatech and IPG.
"A lot of pool and spa dealers don't even know we exist. Exposure to the over 300 more dealers is tremendous for our company," commented Mike Riggle, co-owner of MIDE Products. By design, these groups have increased buying power which gives members an added incentive to purchase from approved vendors, such as MIDE Products.
Aquatech Corporation, based in Costa Mesa, California, is a Member-owned society of pool building and retailing professionals. Since Aquatech's founding in the early 1960's, it has grown to over 220 Members across the United States. A driving force to Aquatech's continued growth is one simple philosophy: "…Expand by inviting pool builders and retailers into the group who share similar core business values, thus enabling all Members to succeed and become better informed with a free exchange of information and savings provided by the group."
Independent Pool Group ("IPG") was founded in Ottawa, Ontario, Canada in 1986 by some of Canada's most successful Pool and Spa Retailers, with the goal to share resources and benefit from their combined buying power. The group is now run by a professional management team who help support its 60 plus members in their purchasing, training, marketing, and general business operations. The group hosts an annual conference and buying show at which all members have the opportunity to learn from professional trainers as well as from their peers and vendors.
MIDE Products, LLC was founded in 2009 in order to fill a niche in the fence/outdoor living market. That niche - provide consumers quality, long lasting, weather resistant and easy to use products. The standout feature of these products is that absolutely no tools or fasteners are required. This allows anyone to easily install or relocate the hooks, while not leaving any holes or damaging the fence in any way. MIDE Products currently has four unique products: Pool Accessory Hooks, Flower Box Holders, Corner Shelves and a Pet Dish Holder. All of these products are manufactured in the United States at their facility in Elkhart, Indiana and carry a lifetime warranty.
For more information about:
MIDE Products, visit http://www.mideproducts.com/ or call 1-800-243-7019
Aquatech Corporation, visit http://www.aquatechpools.com/
Independent Pool Group, visit http://ipgcanada.org/
Media Contact:
Mike Riggle
MIDE Products
(574) 326-3060