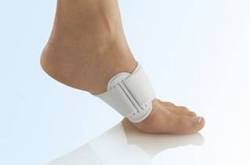 Tiburon, CA (Vocus) August 16, 2010
Alpha Orthotics Corp released the second in a series of its complimentary eBook, When the Foot Hits the Ground from Toe to Heel, an easy-to-read reference about many common foot ailments. Abnormal biomechanics of the foot can lead to other painful conditions of the knees, hips, pelvic or back if not properly treated.
The mid-foot plays an important role in ensuring proper biomechanics because it helps transfer weight from the heel to the toes. Overpronation causes a majority of foot problems. Overpronation occurs when the feet are too flexible and unstable. As the weight shifts from the heel to the toes, the ankle bone tilts downward and rotates inward, forcing the mid-foot to collapse.
A brace with an adjustable dual strapping support system that provides an inward and upward support to the metatarsal arch is a new way to provide support to a collapsed arch due to overpronation. The Medial Mid-foot Brace from Alpha Orthotics relieves mid-foot pain caused by general foot stress and strain, splayfoot, fallen arches, mid-foot arthritis, and stress fractures. In addition to providing strong mid-foot support, its metatarsal pad provides lift to the transverse arch, helping those with flat feet.
Gaby Federal, President, Alpha Orthotics, says, "In our eBook, the most common advice is to wear properly fitting shoes with support, stretch and exercise your feet, and lessen the impact on your feet by keeping your body weight down. Getting appropriate support for the mid-foot is easy with our adjustable mid-foot brace." One size fits most, and can be worn on the left or right foot. Available at http://www.alphaorthotics.com for $19.95 (SRP: $29.95).
Alpha Orthotics encourages readers to share the eBook with other people who want to learn more about their feet by simply downloading the PDF.
About Alpha Orthotics Corp.
Alpha Orthotics Corp. (http://www.alphaorthotics.com) is a wholly owned subsidiary of German Hallufix Corporation. Alpha Orthotics markets and sells patented, German-engineered non-invasive orthotic products directly to consumers and to the medical community.
###