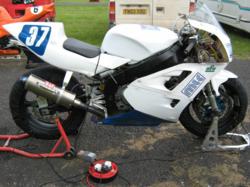 We're looking forward to Matt bouncing back on the Midland Ladders ZXR at the next round at the Anglesey Coastal Course in just 2 weeks on the 18th and 19th of August.
Cadwell Park (PRWEB UK) 8 August 2012
Disaster strikes rider Matt Alexandre, racing the Midland Ladders Kawasaki ZXR in the NG Road Racing Championships.
After continuing to press Championship leader and defending Champion Shannon Hale in the A and R 400 race at Caldwell Park last weekend by securing 2nd place in round 9 on Saturday, disaster struck Matt Alexandre during Sunday's race.
After strengthening his position in the previous meet, the gearbox of his ZXR suffered a mechanical failure, something which neither he nor the Midland Ladders Team could have foreseen. It had all been going so well for Matt and the team, who have still not given up chasing down Shannon for the title with 6 races and hatfuls of points still available, but this is a setback.
Shannon Hale took a maximum points haul, again, with two wins in the A and R F400 class on the Black Lion Transport ZXR. Hale, who is the defending champion, had close company from Alexandre all day on Saturday but the gearbox failure Sunday saw Alexandre forced out of round 10. That gave Dave Matchett, currently third in the championship a chance to take his best position of the year with runner up spot.
Nestled in the Lincolnshire Wolds, this 'mini-Nurburgring' at Cadwell Park is certainly one of Britain's most picturesque and stunning, but hazardous circuits.
Motorcycle racing at Cadwell started way back in 1934 with the opening of the original short 0.7 mile track. This was extended to nearly double its' length to 1.3 miles in 1953. The current cracking 'grand prix' circuit we raced this weekend measures 2.17 miles in length and was completed in 1962 but with the major updates in 1997 this truly is a wonderful place to race,
Most riders consider the Mountain section of this track, from Hall Bends all the way through to Barn to be extremely dangerous, especially if there is even a hint of rain. Its climbs and descent's mix testing twisty wooded sections with long rapid curves on the downland summit.
The circuit is challenging and mostly narrow, demanding near perfect lines which Cadwell's notorious bumps and jumps do their utmost to upset.
The famous Mountain is probably unique amongst all the world's racetracks. So many bikes of all levels become completely airborne there that it seems almost unnecessary to actually surface the succeeding yards! No problems for Alexandre on his Midland Ladders ZXR 400 though, he seemed to delight in the "airtime" and though the challenge of Charlies is a fast, blind, double apex right-hander with mountainous bumps just where you need them least, Matt took it all in his stride.
The Gooseneck, where the circuit takes a twisting drop from the plateau, is almost as spectacular but incredibly even trickier, and all riders including Matt paid it utmost respect and picked his braking point perfectly all day.
Grip all around the circuit is fairly good, although utmost care and attention should be exercised if there's even a hint of damp conditions under trees in the Woodland section.
The track offers superb viewing for the spectators when they arrive, usually at close quarters to the action. Recently, small but useful improvement in facilities have been ongoing, but it's still a work in progress. But the beautiful scenic Cadwell is a perfect place for a summer picnic.
This weekends spectators were treated to a real treat, as well as Matt on his MLC ZXR and Shannon, on a very similar machine, battling out the top two spots there were even more categories than usual as the British Superbike riders had a day off and the Cadwell Park NG Road Racing meeting was used by a whole raft of Britain's best as they started their preparations for the upcoming MCE Superbikes meeting at the Lincolnshire circuit. A" Busman's holiday" – as reported by Russ Gardner, NG Road Racing Press Officer, Commentator and Bike Sport News Contributor on the NG Roadracing website.
That said even if the original intention was a weekend of testing when the "racers" came to the grid, testing seemed to be the absolute the last thing on their mind and some cracking racing was the order of the day. All in all it was a fabulous day for the spectators and a real delight in a beautiful spot of the Lincolnshire Wolds.
So, apart from Matt's gearbox failure it was a great weekend! All at The Midland Ladder Company hope Matt bounces straight back at rounds 11 and 12 at the Anglesey Coastal course in just 2 weeks on the 18th and 19th of August.
Anyone requiring further information on the MLC's Kawasaki ZXR 400 and its rider Max Alexandre should contact John Humphries on 01527 821651.