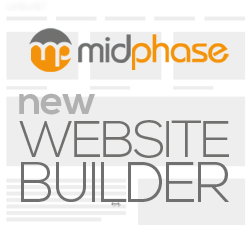 Today, our customers use the easy-to-understand website builder to effortlessly create their website.
Salt Lake Ciyy, Utah (PRWEB) June 27, 2013
Leading Web host Midphase has announced the introduction of a new Web design tool to its product range, allowing customers to easily build a professional website. The new website builder is an online software platform that lets users design and launch fully functioning websites without coding knowledge.
Aimed at small businesses wanting to establish an online presence, the website builder is a perfect fit with very easy-to-use tools and uncommonly professional website templates allowing a business owner to build a website they'll be happy to share. Breaking the mold from traditional website builder software, the Midphase website builder allows true customization by allowing customers to create the exact look that perfectly reflects their business.
"Small businesses have some big obstacles to overcome when they create their first website," said Sara Cunha-Rego, the director of hosting products at Midphase. "A few years ago someone needed a breadth of knowledge and time to have a functional and professional looking website. Today, our customers use the easy-to-understand website builder to effortlessly create their website."
Website Builder comes pre-loaded with over 200 templates, each one fully customizable. This allows users to easily perfect the way their website looks in a straightforward on-screen display. By adding text, images, video, social media plugins and other widgets, then rearranging them using simple drag-and-drop functionality, they can naturally create a website that is unique to their business.
"Everyone wants their business website to look impressive and attractive," added Cunha-Rego. "Having over 200 customizable templates allows any our customers to make a unique site that gives a great online impression."
Website Builder comes with a robust hosting platform and a free domain name, making it a great all-round package that gives everything required for a business to get online.
ABOUT MIDPHASE
Since 2003, Midphase has provided budget, shared, advanced and other types of Web hosting services to a wide variety of customers ranging from individuals to small businesses. Midphase is a subsidiary of the UK2 Group, a significant player in the European and U.S. Web hosting markets, providing domain registration and affordable website hosting to customers globally. Utilizing state of the art data centers, Midphase is able to provide advanced security and high availability to customers at an affordable price. Midphase is committed to providing reliable, cutting-edge products and services at a great value, underpinned with superior client support. For more information about Midphase, visit http://www.midphase.com.