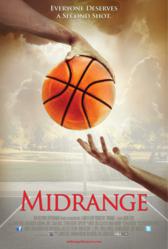 "Playing pro basketball has blessed me with many opportunities--the most of which is sharing my faith to help transform lives. This movie will hopefully impact people and entertain as well," shares Corey Maggette, Executive Producer.
LOS ANGELES, CA (PRWEB) February 13, 2013
New Hollywood Entertainment (NuHo) announces the acquisition of the faith-based feature film "MidRange." The basketball drama is executive produced by professional basketball star Corey Maggette and is set for theatrical release this spring.
"MidRange" is packed with professional basketball star cameos including Allan Houston, Greivis Vasquez, Jerome Williams, Anthony Tolliver and Kelenna Azubuike who also serves as executive producer. Some of the "MidRange" cameo cast will attend Active Faith's All-Star Faith & Family Event during All-Star Weekend in Houston on Saturday, February 16th where the "MidRange" trailer will screen for the audience before Grammy-winning artist Lecrae performs. (Go to MidRangeTheMovie.com to view trailer.)
About MidRange
Jason Fields, "MidRange" writer, director and producer, made his feature debut that is both deeply personal yet universally relatable. The film centers around two brothers; a young basketball star set on making a professional roster and a single dad on a fast track to prison. Through their wins and losses an intimate portrait emerges of two brothers who look candidly at their lives, loyalty and their own limitations as they each wrestle with the past and are forced to engage with the present. Thematically the film addresses a secular struggle of balancing faith, family and career and ultimately the critical choices that define a man's character and reveal what's most important in life.
About NuHo
New Hollywood Entertainment (NuHo), a distributor with a filmmaker mentality, is changing the film distribution game by uniquely altering the traditional film distribution business model to ultimately benefit both the filmmaker and theatres by maximizing exposure and revenue. Bridging the gap between filmmakers and exhibitors allows NUHO to distribute quality independent films to the public on all distribution platforms. To learn more about NUHO's groundbreaking model go to NewHollywoodEntertainment.com