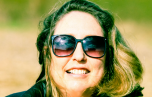 "The Midway Cafe is more than a magazine, it's a movement for the 40-50+ crowd" Sue Rice, CEO/Publisher
Paris France (PRWEB) October 04, 2012
A fresh new online magazine, the Midway Café will open its doors this week. The exclusive online magazine, devoted to the interests of the '40-50 something' crowd, will cover a polyglot of subjects including entrepreneurship, relationships, travel, finance, beauty, fashion and self-development.
The Midway Café Magazine is the brainchild of its publisher Sue Rice, a serial entrepreneur, international presenter and author. According to Rice, an American who has lived in France for the last 20 years, "I wanted to create an upscale, exclusive online magazine for the 40+ crowd who are interested in reinventing, renewing and redefining themselves in all areas of their lives."
Rice decided to create the Midway Café Magazine because she felt that there was a gap on the marketplace. "I got a bit tired of looking at online magazines that just assumed that if you hit 40 or 50, all you care about is retirement or health issues. I believe that a lot of people in that age group feel vibrant and are ready for the next challenge and just aren't ready to wind things down", Rice explains.
The Midway Café will be published weekly and is available through email subscription. Each issue will be devoted to one central topic and will take less than 7 minutes to read. "Our readers are really busy. They want interesting ideas but they don't have time. We want to deliver interesting content that is quick and easy to digest", Ms. Rice elaborates.
According to Rice, the vision behind the Midway Café Magazine is that it will be more a 'movement' than a magazine. "My idea is to use the Midway Café as a platform for creating a dynamic community of 40 and 50 somethings who want to connect with each other and share ideas about a whole host of issues." Rice elaborates. "I even imagine a day in the not-too-distant future where the Midway Café will be a springboard for live events where we can meet each other in person", she adds.
The Midway Café Magazine will launch on October 5, 2012. The magazine is for the 40-50+ something crowd looking to reinvent, renew and rediscover themselves. Click here to get a complimentary subscription.
Sue Rice is a long-time strategic and communications expert, author, international speaker and serial entrepreneur who lives a dream life in her renovated farmhouse in Burgundy France. Nicknamed the 'female David Ogilvy', Rice has led rock star companies like Lego and Nike with her original 'out-of-the-box' thinking and cutting edge marketing savvy. For the last several years, she has turned her energies to helping successful individuals redefine and retool their lives to make more money and magic than they ever thought possible. Sue works privately a small group of exclusive clients either virtually or during VIP "Paris Power" days in Paris, France.