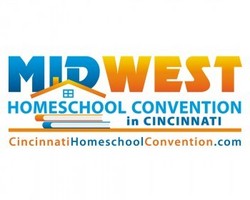 This is the Homeschool EVENT of the YEAR with an unparalleled Speaker Roster, nearly 300 Seminar & Workshop sessions and a HUGE homeschool curriculum Exhibit Hall
Cincinnati, OH (PRWEB) March 18, 2010
The MidWest Homeschool Convention in Cincinnati will be held April 8-10, 2010 at the Duke Energy Convention Center. This homeschooling convention provides encouragement, instruction, ideas, how-to workshops, curriculum shopping opportunities, and a lot of fun and fellowship for the thousands of homeschooling parents in attendance. With a huge Exhibit Hall featuring nearly 300 homeschool curriculum exhibitors, a Speaker Roster that is unparalleled and nearly 300 Seminar and Workshop sessions, this convention has become the Homeschool Event of the Year for homeschoolers throughout the MidWest.
The Speaker Roster includes best-selling authors and experts such as Dr. Susan Wise Bauer (The Well Trained Mind), nationally syndicated parenting columnist John Rosemond, Dr. Larry Schweikart (A Patriot's History of the United States), Cathy Duffy (Cathy Duffy Reviews), Scott Flansburg (The Human Calculator), Micheal Flaherty (Walden Media), Attorney David Gibbs III (Homeschool Legal Advantage), Jim Weiss (GreatHall Productions) and many more!
Micheal Flaherty, President of Walden Media, will be speaking on Thursday evening. Everyone attending Michael Flaherty's Thursday evening presentation will receive a free copy of the "Amazing Grace" movie (based on the true-life story of William Wilberforce - the late 18th century leader of the British abolition movement) from Walden Media. Walden Media specializes in quality entertainment for the whole family. Some of their past award-winning films include the "Chronicles of Narnia" series, "Journey to the Center of the Earth," "Nims Island," and "Charlotte's Web."
Incredibly, Homeschool Legal Advantage (HLA) is providing all attendees with a complimentary first-year membership. This membership has a "suggested donation" value of $65, though its' real value far exceeds that -- as one of the "benefits of membership" is a free "Last Will and Testament" drafted by an attorney!
A listing of confirmed homeschool curriculum exhibitors, Featured Speakers, homeschooling Seminar & Workshop sessions, other related homeschool convention information and online registration can be found at the MidWest Homeschool Convention website.
###