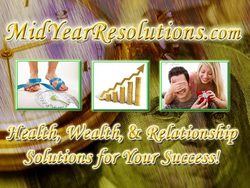 As fitness professionals, we know it is still realistic to safely lose 50 pounds this year. This would create enormous saving on annual fuel costs in the transportation industry and a massive reduction in health care expenditures
Prescott, AZ (PRWEB) June 26, 2008
Over 22 world-class experts in the areas of weight loss, wealth creation, and relationships have joined to form a Mid Year Resolutions Teleseminar, designed to help people set new goals and resolutions for the last half of the year.
Jeremy and Alissa Nelms, the creators of the project, believe that helping enough people lose body fat, create additional monthly income, and improve their relationships will have a measurable impact on the struggling economy.
"As fitness professionals, we know it is still realistic to safely lose 50 pounds this year. This would create enormous saving on annual fuel costs in the transportation industry and a massive reduction in health care expenditures," said Jeremy, citing an article that claimed a reduction of approximately $5 billion in transportation expenses and $140 billion in obesity-related medical care…assuming people reduced their waist line.
In addition to the savings created from dropping both inches and pounds, the couple encourage people to set a resolution of creating additional monthly income. "Based on current population estimates, if only 1 out of every 150 people in the United States were able to generate an extra $500 per month by offering or improving a service or product, approximately $1 billion worth of cash would enter the US economy each and every month," stated Alissa.
For relationships, divorce is the unfortunate final outcome to approximately half of the marriages in the US, which is costly in terms of money, energy, and time. The Mid Year Resolution creators believe that making improved relationships a priority will not only save enormous legal and child support fees, but also prevent a massive loss of productivity, as people and families battle through months and even years of divorce proceedings.
Because it is a teleseminar, people will be able to receive the empowering information from their home, instead of spending money on airfare and hotel for travel to a normal seminar.
"Things are pretty bleak in the economy, so we wanted to make the experts' tips and techniques accessible to everyone that has a computer, free of charge," Jeremy said.
Some of the top experts in the world on fat loss, wealth creation, and relationships are represented in the free offering, including internet marketer Mark Joyner, Dr. Joe Vitale of the Secret, "Siren" from the American Gladiators, nutritionists for Olympic athletes and runway models, INDIE Book Award Gold Medal winners, the celebrity trainer for Jessica Biel, Jennifer Garner, and Rachel Nichols, as well as the president of World Wide Brands, a company which finds and rates international wholesalers, for people who wish to sell products on websites like eBay and Amazon.
Over 20 hours of expert advice and goal achievement techniques will be available from the website at http://www.MidYearResolutions.com. The first calls will be released on July 1st, the official beginning of the Mid Year.
###