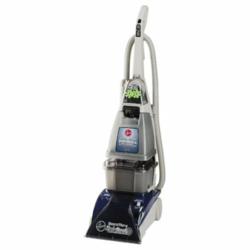 If you have carpet, and especially if you have an indoor pet, you'll get lots of use out of the SteamVac
San Francisco, CA (PRWEB) March 31, 2011
With almost forty years of experience under their belts, Sunset Sewing and Vacuum keeps on expanding their product line and their professional service. The San Francisco vacuum repair and product store, has added yet another popular vacuum, the Hoover SteamVac Carpet Cleaner with Clean Surge, F5914-900, to its growing warranty list. The Hoover SteamVac is an all-time favorite, garnering an average 4.5 out of five star rating from its 1,830 reviews on Amazon.com.
"My carpets always look great," said Hoover SteamVac user Liora Hess. "They always have that "just cleaned" look about them. I've had people comment on them as they enter my home and insist on removing their shoes. I'm very satisfied with the performance of the Hoover. If you have carpet, and especially if you have an indoor pet, you'll get lots of use out of the SteamVac."
The Hoover SteamVac Carpet Cleaner with Clean Surge F5914-900 comes with a powerful twelve-amp motor and five spinning/scrubbing brushes that clean carpets, upholstery, and floors. The machine deep cleans using hot tap water and carpet solution. The "Clean Surge" function shoots an extra burst of solution to remove the toughest spots or stains and two water tanks separate clean and dirty water. An eight-foot hose ensures users can get to tough-to-reach places.
With a one-year warranty and rave reviews, the SteamVac is sure to be a fast-seller at Sunset Sewing and Vacuum. As the largest vacuum warranty center in the city, Sunset Sewing and Vacuum Center is the only factory authorized warranty center for San Francisco Miele vacuums, as well as for Juki sewing machines, Singer sewing machines, Dyson vacuums, and Rotho vacuum cleaners.
"We have been going to Sunset Sewing and Vacuum Center for a roughly one year now," said Sunset Sewing and Vacuum Center customer Ken B. "They have all the vacuum parts and replacement items that we could possibly hope for. We were so impressed by the professionalism and service at Sunset that we took them a different type of appliance to attempt to fix. The store owner gladly accepted the challenge, and once again far exceeded my expectations."
For more information about the new Hoover SteamVac or any of Sunset Sewing and Vacuum Center's products and services, call them at (415) 418-7830, view them on the web at http://www.bayvacuum-sf.com, or visit their store located at 1512 Irving Street in San Francisco.
About Sunset Sewing and Vacuum Center
Sunset Sewing and Vacuum Center is a San Francisco vacuum and sewing store that specializes in vacuum cleaner products, repair and service, sewing machine products, repair and service, and air purifiers. Sunset Sewing and Vacuum Center serves the entire San Francisco Bay Area. They carry numerous brands, including Miele and Dyson vacuums San Francisco and Singer sewing machines San Francisco.
###