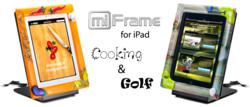 These glass miFrames feature bright, fun colors that really accent a room and make great gifts for the chef or golfer," remarks Justin Elkow, the miFrame co-designer.
Chicago, IL (PRWEB) July 30, 2012
Striped Sail announces the launch of a ceramic glass line of its designer iPad docking station, miFrame. The new line features glass frames handmade by a popular Etsy artisan from Vancouver, Washington. The styles debuting are perfect for the golf enthusiast and the cooking lover.
Pricing And Availability
GOLF THEMED IPAD DOCK- $279
FORE! Yes, that's the most Golf Themed miFrames that can be ordered. This original iPad charging station design will complement the golf enthusiasts' ninth hole rumpus room or office.
COOKING THEMED IPAD DOCK - $279
Sure to spice up ones life in the kitchen using a favorite recipe app, this iPad stand is decorated with peppers, garlic, grapes, and eggplant. Featuring a completely original design and available while supplies last.
Like every other miFrame Striped Sail has released, the new glass line can charge iPad with its built-in dock connector in both portrait and landscape orientations and it comes with an extended 5' USB cable so miFrame can be positioned in just the right place and still reach an outlet.
Very unique to Striped Sail's miFrame iPad dock, the product serves dual purposes. On the one hand it can hold an iPad upright while a user checks mail and surfs the web. On the other it's a functional 8×10 picture frame when iPad is out-and-about.
"These glass miFrames feature bright, fun colors that really accent a room and make great gifts for the chef or golfer," remarks Justin Elkow, the miFrame c0o-designer.
Striped Sail introduced the first iPad Picture Frame Docking Station in 2010, when it announced the Enduring Silver anodized aluminum miFrame for the the first generation iPad. The model's frame and base featured a finish that matched the look and feel of the back of iPad. Last summer, the company announced a new thinner and lighter design for the iPad 2 and added the Distinguished Black color option.
This summer, Striped Sail has focused on giving iPad customers more choices for framing their iPad while maintaining the miFrame's iconic look. The company has already introduced a Rose Gold plated frame, made from real Rose Gold and a hand-rubbed Antique Copper plated frame that makes a great accent piece in a kitchen or library.
"miFrame gives one endless ways to get more use from their iPad when they're in the middle of doing other things. One can be confident that iPad is charged when it is needed most even when used all day at work to keep tabs on a Twitter stream, email, golf tournament or ball game. At home, dock iPad in miFrame and enter iPad's picture frame app to immerse oneself in family memories while making dinner or playing with the kids," remarks Elkow.
About Striped Sail
Striped Sail designs and markets miFrames, fine 8x10 picture frames with a hidden dock connector designed to dock and charge Apple's latest iPad tablets. miFrames are celebrated for their versatility, style, and convenience. They rotate for easy widescreen or upright portrait use, feature a built-in 5 ft USB charging cable with almost twice the reach of the standard cable, and can protect any 8x10 photograph from scratches, dust, and UV rays while on display. Frames ship worldwide and are available for the original iPad, iPad 2 and the New iPad in many unique styles and finishes including anodized aluminum, antique copper, rose gold and 24K gold starting at only $139.