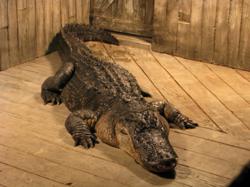 We think Mighty Mike enjoyed his stay at the Newport Aquarium almost as much as our guests enjoyed seeing him here.
Newport, KY (PRWEB) May 09, 2011
To paraphrase a popular riddle: When does an 800-pound, 14-foot long alligator leave the Newport Aquarium? Answer: Whenever it wants to.
While that answer is right most of the time, this month the biologists at Newport Aquarium will transport Mighty Mike, the gigantic American alligator who has called the Aquarium home for the past several months, to his next home.
The last chance to see Mighty Mike at Newport Aquarium will be the weekend of May 21-22.
Mighty Mike is considered the largest alligator in the country on display outside of the state of Florida. He was on temporary loan to the Aquarium from a private collection in Florida. He leaves the Aquarium and will be transported to an outdoor exhibit at a Michigan zoo.
"We think Mighty Mike enjoyed his stay at the Newport Aquarium almost as much as our guests enjoyed seeing him here," said Ric Urban, curator of birds and mammals at Newport Aquarium. "Feedback and reaction we received were overwhelmingly positive. People really took the time to stand in the exhibit and marvel at what a beautiful creature he is."
With the departure of Mighty Mike, the Gator Bayou gallery will again host the six two-year-old American alligators that were added to the Aquarium in 2010. The smaller exhibit area adjacent to Gator Bayou that displayed baby alligators during Mighty Mike's stay will also return to hosting the rehabilitated Eastern Screech Owl.
Over the past several years, Mighty Mike has toured the country with his keeper and Florida-based reptile expert Bruce Shwedick, spreading the word for crocodilian conservation.
The American Alligator (Alligator mississippiensis), one of 23 species of crocodiles known in the world, was close to extinction almost 40 years ago. In fact, they were among the first animals listed in the Endangered Species Preservation Act of 1966, the first federal animal conservation law of its kind. Conservation laws and research saved the American alligator and now they are managed as a valuable resource.
American alligators are found in the Southeastern United States, including Alabama, Arkansas, North Carolina, South Carolina, Florida, Georgia, Louisiana, Mississippi, Oklahoma and Texas.
For more information on Newport Aquarium and for a list of daily activities, visit http://www.newportaquarium.com.
Newport Aquarium is a Herschend Family Entertainment company (http://www.hfecorp.com) and an accredited member of the Association of Zoos and Aquariums (AZA), a leader in global wildlife conservation. The Aquarium is open to the public 365 days a year and is located only two minutes from downtown Cincinnati at Newport on the Levee. For more information, visit http://www.newportaquarium.com or call (859) 261-7444.
###