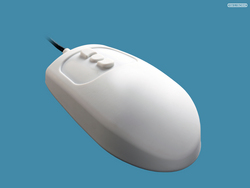 Others have used the name MIGHTY MOUSE for their computer mice and have sought registration of that trademark, but now the United States government has spoken
Landover, MD (PRWEB) October 8, 2009
Man & Machine, Inc., is pleased to announce it was awarded a registration for the trademark MIGHTY MOUSE from the United States Patent and Trademark Office on October 6, 2009. The registration conveys upon Man & Machine, Inc. the exclusive right to use the trademark MIGHTY MOUSE in connection with computer mice in the United States.
For more than 5 years, the Mighty Mouse® line of rugged, hygienic, waterproof mice have set the standard for the industry. They feature a "silk touch" silicone rubber skin and 5 button ergonomic design that mimics the scroll wheel of a standard mouse.
The Mighty Mouse, along with its compact sister, the Petite Mouse™, may be combined with our line of waterproof keyboards to create an effective defense against infectious diseases, such as H1-N1 Flu (swine flu) and hospital-acquired infections like MRSA. Cleaning can be easily performed using chemical disinfectants, alcohol or soap & water. All Man & Machine premium keyboards and mice are dishwasher safe and support a natural antimicrobial disinfecting process.
"Others have used the name MIGHTY MOUSE for their computer mice and have sought registration of that trademark, but now the United States government has spoken," said Clifton Broumand, CEO and Big Cheese, Man & Machine, Inc. "We look forward to the continuation and expansion of the Mighty Mouse line of waterproof mice."
The Mighty Mouse computer mouse can be found worldwide in hospitals, laboratories, medical/dental facilities, schools, public safety, libraries, offices and in industrial applications. It is available in hygienic white and black.
Company Background
Man & Machine, Inc. is an international provider of leading edge computer accessories focusing on medical, governmental, industrial and general office environments. Products include waterproof keyboards and mice, mobile keyboards for the RIM Blackberry, LCD privacy monitors for HIPAA compliance and financial security, and customized products to meet client's unique applications. The company was founded in 1982 outside of Washington, DC with satellite offices in New York, Tennessee, Missouri, The Netherlands and China. Man & Machine, Inc. adheres to a strict environmental code for the sustainability and protection of our environment. Please visit Man & Machine
###