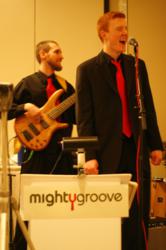 When the musicians arrived in Maine, the sky was clear. It wasn't until 10pm that the storm began to set in.
Scarborough, Maine (PRWEB) August 31, 2011
Despite Hurricane Irene, Boston wedding band, Mighty Groove performed at the Black Point Yacht Club in Scarborough Maine on Saturday, August 27, 2011. The storm, which was expected to hit full force on Sunday, began taking aim at the Yacht Club around 10pm, and continued throughout the night. The host of the event ended the night slightly before midnight because most of the guests left in order to avoid the storm. The musicians of Mighty Groove, decided in order to avoid the heart of the storm on Sunday, they would travel back to their home in Boston that night.
Performing that night was Paul Geresy on drums, Carl Eisman on guitar, Mark Zaleski on electric bass, Leon Cotter on tenor saxophone, David Ira Roth on trombone, and John Stevens singing. The groups regular guitarist, Nick Grondin, was playing with another wedding band in Portland, Maine, and regular electric bassist Matt Edwards was in Colorado. On the way up to the performance, the musicians expressed concern for the conditions of the storm. At the time, New York city had been hit very hard by Irene, while the storm was just approaching Boston. When the musicians arrived in Maine, the sky was clear. It wasn't until 10pm that the storm began to set in. By that time Irene was officially downgraded to a tropical storm.
Mark Zaleski and many of the other musicians had club dates and other events scheduled on Sunday, but they were all canceled due to the weather.
Drummer Paul Geresy commented, "I am glad we played this gig, and glad we made the decision to leave for Boston instead of stay overnight in Maine."
This date was significant, because it was one year to date since the group performed their first wedding in Yarmouth Maine. This performance was for an engagement party, but due to the weather was cut a bit short. Paul Geresy and David Ira Roth arrived back safely in Boston, as did Mark Zalesky, Carl Eisman, John Stevens and Leon Cotter.
About Mighty Groove
Mighty Groove is a band based out of Boston that covers all genres of music. Mighty Groove offers entertainment for weddings, galas, receptions, charity events, and concerts. Mighty Groove has been performing at events since 2010. Performers in Mighty Groove include John Stevens on vocals, Nick Grondin on guitar, Gretchen Bostrom on vocals, Paul Geresy on drums, Tucker Antell on sax, Mark Zaleski on sax and bass guitar, Matt Edwards on bass, and Eric Lane on keyboard and sax, and David Ira Roth on trombone.
###