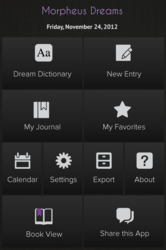 Our team is dedicated and passionate about developing the best Dream App possible. We continue to refine a product we all want to use, and strive to make it better at every turn, keeping it the best Interpretation and Journal tool available.
New York, NY (PRWEB) January 22, 2013
Mighty Mack announces today the release of version 3.0 of its popular iPhone and iPad app Morpheus Dreams, now available on the App Store.
The fascination with understanding our dreams as a means of better understanding ourselves and our relationships with others is a constant subject of speculation and interest. The craft of dream interpretation goes back as far as to the times of ancient Greece and even further back, to the Biblical story of Joseph. Now, interpreting dreams is easier then ever before.
Stylishly redesigned, Morpheus Dreams is a powerful dream interpretation tool with the most comprehensive set of individualized features to make recording and interpreting dreams easy, fun, and user friendly.
The App has numerous features, including:

Full Featured Dream Journal. Morpheus Dreams lets you type or dictate your dreams using Apple's new Siri tool. If you only remember fragments of your dream, just enter what you remember and as it comes back to you the edit feature makes it easy to modify any entry.
Interpret As You Write. The App includes a word recognition feature which highlights key words with hidden meanings as you type. Mark words as favorites, share them via email, Twitter, or Facebook!
Search Everything. Use our Journal search box to find an old dream, a meaningful word or symbol. It's all there at your fingertips!
New, Integrative Dream Dictionary. See what Artemidorus, Freud, Jung, Hasse, among others have to say about your dreams! With over 4,100 word meanings, Morpheus gives you, the dreamer, all the right tools to dig deep into your dreams' meanings!
Great Sharing Tools. Share your dreams with friends and family via email, Twitter and Facebook... if your soul is brave enough!
Synchronize and Backup. Easily sync up all your entries among multiple devices and setup an automatic backup of all your data to be sure you never loose a single journal entry!
Export at any Time. Easily export your journal entry as a text file to reformat, print, or modify it as your dreamful soul desires! You're never locked in.
Calendar View. Our calendar keeps track of your entries for you. Just pick a date where you made the
entry, open it, and reflect on the dreams of your past. And you can edit them too!
Book View. Our signature Book View feature lets you look at your journal as if it were a book.
for those viewers who enjoy the classical journal look.
Customize Morpheus Dreams to fit your needs.

Setup a privacy password
Setup an alarm to remind you to make a journal
Choosing your startup page
To find out more about Morpheus Dreams you can visit their website or download it from the App Store. For inquiries please send an email to [email protected]
--
Mighty Mack is leading publisher of distinguished digital products for the consumer and professional markets. The Company leverages newly available digital tools to create, design, and share new ways of consuming information and experiencing the world around us. The company has released a variety of best-of-class Apps, including Advertising Today, Science Today, Where2Boss?, Agora Briefcase, Breaking News, Film Today, among many others.
To learn more about MightyMack please visit their website at http://www.mightymack.com or email them to [email protected]