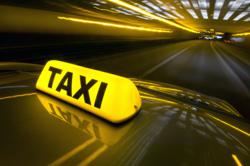 Find out when you'll get there.
See if you're being taken for a ride.
New York, NY (PRWEB) January 29, 2013
Where2Boss? may be a cab driver's worst nightmare. Taxi driver scams have become very common, particularly in large metropolitan areas, where the taxi drivers are known to take advantage of their customers, especially the unsuspecting, susceptible tourists.
Many share their tasteless experiences and give helpful hints (http://www.wanderingearl.com/how-to-avoid-being-ripped-off-by-taxi-drivers/), but this pattern still hasn't seceded and complaints against taxi drivers have no end in sight. In 2010, a New York Post article noted over 12,000 complaints have been filed against yellow cab drivers alone/ But are these complaints falling on deaf ears?
Mighty Mack's Where2Boss? App is a possible weapon that could give the susceptible consumer an advantage. With surpassing its recent milestone of 10,000 downloads, Where2Boss? is well on its way to rattle the tree bark and let loose some of the rotten apples that fall from New York City's Taxicab driver tree.
Where2Boss? gives the user more control of their taxi ride, keeping track of how long it will take to get to their specific destination and how the taxi route compares to the App's GPS assessment. The App lets the consumer improve their taxi experience in a fun way and most importantly, the consumer can review their experience, flag a driver, and make their experience count.
Where2Boss? provides a grass-roots, fair and user-driven forum for feedback on taxi and livery drivers. Most existing comments or complaints processes are unreasonably complicated, require a physical hearing or are simply inexistent. With Where2boss? the user's feedback is aggregated with other riders to devise a trusted, fresh and accurate review system.
Features

Track Your Estimated Time of Arrival
See if You're Being Taken for a Ride
Improve Your Ride in a Fun Way
Rate Your Driver
Earn Points and Badges
Finally Make Your Opinion Count!
Compatible with iPhone, iPod touch, and iPad. Requires iOS 4.3 or later.
Where2Boss? can be downloaded on the App Store
--
Mighty Mack is leading publisher of distinguished digital products for the consumer and professional markets. The Company leverages newly available digital tools to create, design, and share new ways of consuming information and experiencing the world around us. The company has released a variety of best-of-class Apps, including Advertising Today, Science Today Agora Briefcase, Breaking News, Film Today, among many others.
To learn more about Mighty Mack please visit their website at http://www.mightymack.com or email them to press(at)mightymack(dot)com.