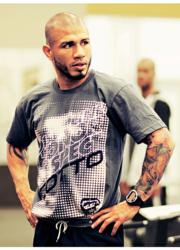 New York, NY (PRWEB) July 23, 2012
Miguel Cotto, the former WBA Light Middleweight Champion boxer, will be touring five Ecko Unlimited store locations Tuesday July 31st, Wednesday August 1st and Thursday August 2nd.
The meet and greet with Miguel Cotto gives fans the opportunity to take photos with Cotto and get the athlete to autograph their favorite Cotto merchandise. The entire Miguel Cotto MMA t-shirt collection will be available for purchase before, during and after the tour. The first 100 people in line will receive a free Cotto poster for him to autograph at each store appearance.
The tour begins Tuesday, July 31st at 1PM to 2PM at the Ecko Unlimited store location in the Puerto Rico Premium Outlets in Barceloneta, followed by an appearance from 4PM to 5PM at the Plaza Del Norte Ecko Unlimited in Hatillo.
Cotto's tour continues Wednesday, August 1st with a meet and greet at the Ecko Unlimited store in Plaza Carolina in San Juan at 1PM to 2PM. The next location will be held from 4PM to 5PM at the Ecko Unlimited in Plaza Del Sol in Bayamon. Cotto's final appearance will be on Thursday, August 2nd at the Ecko store at Belz Factory Outlet in Canovanas from 1PM – 2PM.
About Miguel Cotto
Miguel Cotto is a professional boxer from Puerto Rico who is the former WBA light middleweight champion. A world champion in three different weight classes during his career, Cotto represented his country at the 1999 Pan Am Games and at the 2000 Olympic Games in Sydney. He is the younger brother of boxer Jose Miguel Cotto, and has claimed title belts in light welterweight, welterweight and light middleweight classes. The recent Miguel Cotto fight on May 5th, 2012 saw 1.5 million sales on pay per view, sixth highest ever for pay per view purchases. That makes it the second-biggest non-heavyweight fight of all-time, behind only the 2007 match between Mayweather and Oscar De La Hoya.
About Ecko Unlimited
With an uninhibited pulse on emerging trends and talent, Ecko Unlimited is a lifestyle brand in a class of its own with original collaborations with Star Wars, Batman, street artists like Cope2, Pez and 123Klan, rapper Meek Mill, Big Sean, Big K.R.I.T., boxer Miguel Cotto and others. The ecommerce division of Ecko has continued to help elevate the brand in the digital space, recently mentioned in Mashable and New York Times for their innovations. From music videos and television programs to catwalks, action sports, and video games. Ecko 's "World Famous Rhino Brand" has expanded to include polo shirts, jeans, shorts, watches, and more.
Contact:
Brian Honigman
Marc Ecko Enterprises
brianh(at)ecko(dot)com
###