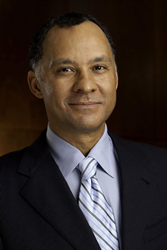 The pull through procedure is a great addition in the armamentarium of a gynecomastia specialist
San Francisco, CA (PRWEB) September 13, 2011
The "Light Pull-Through Procedure" for reduction of the gynecomastia breast, has been perfected and more defined. It is less invasive and can be done with an endoscope. A lateral incision of 2 to 3 millimeters is made near the areola, and then either tumescent or ultrasonic liposuction is done to remove fat. Then through the same small incision a "pickle fork" type instrument is inserted to cut the connecting fibers above and below, freeing up the glandular tissue which is then gently pulled through the small incision.
The advantages to this light pull-through procedure are; no drains are necessary, recovery time is reduced and since the incision is at the edge of the areola the resulting scar will fade to almost being invisible.
Many men have the misconception that liposuction alone can remove their "man boobs". This is actually true for men who have "pseudo-gynecomastia "which is a condition caused by fat alone. For men with true gynecomastia however, there is a combination of fat and actual breast tissue. Breast tissue cannot be removed by liposuction as the tissue is too dense to come through the cannula and must be removed surgically. Unfortunately many surgeons who are not experienced with gynecomastia surgery attempt to reduce the male breast with liposuction alone. The result can be that the breast tissue is more prominent without the fat around it. Once liposuction has been done there will be remaining scar tissue that makes corrective surgery for removal of the breast tissue much more complicated. Miguel Delgado, M.D. states, about 40% of my gynecomastia patients are being seen for corrective surgery after disappointing results from liposuction alone performed at another facility."
Not all men are candidates for the "light pull-through procedure", results are best for men with mild to moderate gynecomastia. The best way to find out who can benefit from this procedure is to be seen by a Board Certified Plastic Surgeon that specializes in gynecomastia.
Miguel Delgado, M.D. holds the two credentials most coveted by plastic surgeons practicing in the United States, namely certification by the American Board of Plastic Surgery and membership in the American Society of Plastic Surgery. He has his own fully accredited surgery center and two offices located in the Bay Area, San Francisco and Marin. View his vast amount of before and after pictures of his San Francisco gynecomastia patients. For more information patients are invited to visit http://www.gynecomastia-specialist.com or call for a consultation at (415) 898-4161.
###